Vito Mannone hopes Sunderland will shrug off Wembley woes
Vito Mannone is confident Sunderland can end the season on a high, despite the Capital one Cup final defeat.
Last Updated: 03/03/14 3:31pm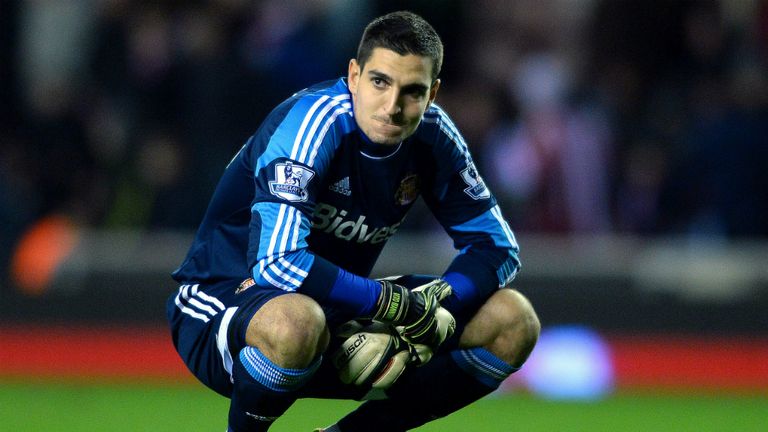 The Black Cats produced an impressive first-half display on Sunday, with Fabio Borini's strike giving them a deserved lead, but City hit back with goals from Yaya Toure, Samir Nasri and Jesus Navas to seize the trophy at Wembley.
Gus Poyet's team can book a swift return to Wembley as they face Hull in the FA Cup quarter-finals on Sunday.
A number of crucial Premier League fixtures also lie ahead for the club, who are third from bottom, and Mannone insists Sunderland cannot afford to feel sorry for themselves.
"We have got a few more games in the league and we need to believe we will bounce back straight away," he said.
"At the end of the day, if we win next Sunday, we are here again, so that's the greatness of the season.
"We need to keep believing and keep doing well, as we did on Sunday even when we were 3-1 down. We need to take pride from this and go on into the league."
Mannone admits he was powerless to prevent City from seizing control of the game through Toure and Nasri's stunning strikes.
"I thought the first one was incredible, the way it dipped down," he said. "I didn't expect a shot like that, to be honest. It kept going away from me while I was diving.
"The second one as well was such a brilliant finish. It was the only spot it could go in.
"Unfortunately, we need to accept that they have got quality. But we need to be proud because the team did really well and we need to be at the same standard in every game from now on because we know we can do it."