FA director Heather Rabbatts says work needed to support women in football
A survey has revealed over two-thirds of women working in football have witnessed sexism in the workplace
Last Updated: 07/03/14 11:58pm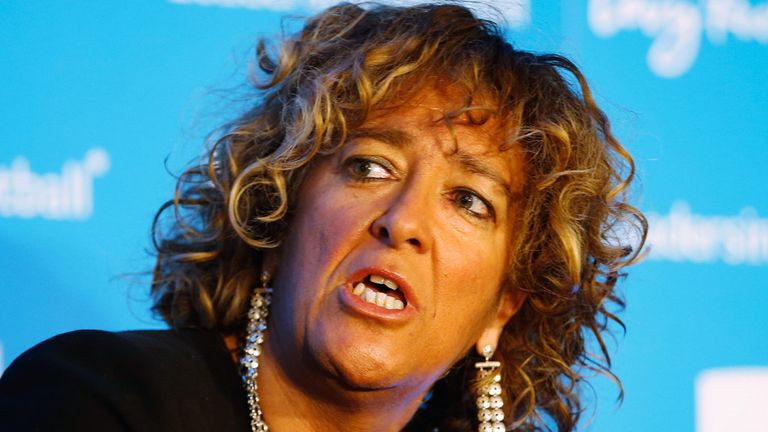 Football, saw over two-thirds of respondents (66.4%) claim they had witnessed sexism in the workplace.
Over half claim to have experienced sexism (57%) and over a quarter (26.4%) felt they were overlooked for promotion because of their gender.
More than two-thirds of respondents (67%), which included female coaches, match officials, media personalities and County FA members, also said they were not being mentored at work, while 94.7% are not on a leadership programme.
Almost 25% felt they were ecxpected to look glamorous at work while over a third of wome (34.9%) felt men in the similar roles were being paid more.
Rabbatts says the results of the survey demonstrate further work needs to be done to integrate women into the game.
"Whilst we know there has been significant progress in women's participation in football and great strides made with the Women's Super League, we know there is more to do.
"Women remain still significantly under-represented in executive and board positions in the sport industry.
"Surveys such as this help to focus all our attention and The FA, alongside all of the football bodies, are committed to tackling discrimination at all levels."
Women in Football was set up seven years ago to celebrate women's achievements in the game and offer mentoring opportunities to the next generation.
They claimed the ground-breaking study hoped to identify why women are not achieving their full potential in the football industry and what can be done to address this.
It also aimed to explore the prevalence of gender discrimination in football. One anonymous contributor wrote: "I experienced direct sexist and derogatory comments, and intimidation. I didn't report it as I was scared. I was told I would never work in the game again."
Another claimed she was told in a job interview that it was an issue that she was female while one respondent said a men's football team had not wanted her to referee their game because of her gender.
Anna Kessel, Chair of Women In Football, added: "Anecdotally, we knew there were far too many shocking experiences of sexism in our national game, so we wanted to capture this information anonymously via a survey.
"Sadly, the survey has confirmed that sexism is part of many women's daily working lives - yet their passion for the game remains undimmed. So the survey information will now be used to engage with football's stakeholders to effect change from the top while we work hard to secure the funding we need to roll out mentoring and leadership programmes for women throughout the industry."
Going forward 90% of respondents said they believe opportunities for women working within the football industry are improving.