Manchester United target Toni Kroos says Premier League could be 'an option'
Bayern Munich midfielder Toni Kroos has revealed that a move to the Premier League is a possibility this summer.
Last Updated: 10/03/14 6:40pm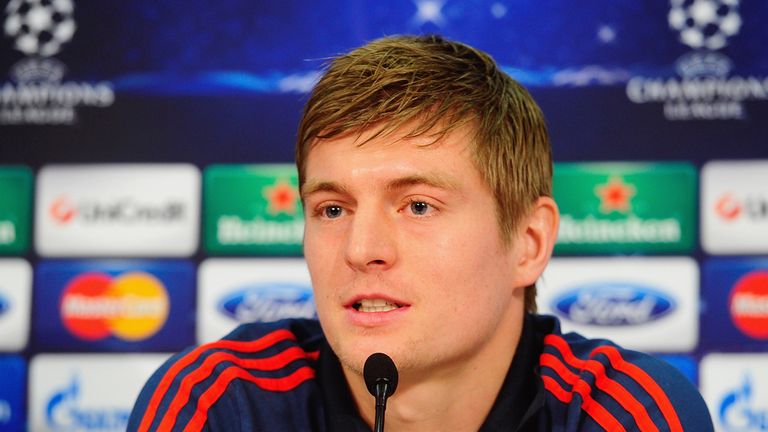 The 24-year-old Germany international is one of the hottest properties in Europe and has yet to sign a new contract with Bayern.
His current deal expires in the summer of 2015 and he has been heavily linked with a move to Manchester United.
And, speaking ahead of the second leg of Bayern's UEFA Champions League last-16 tie against Arsenal on Tuesday, Kroos suggested he could be tempted by a move to Old Trafford.
"Nothing has been decided about my future," he said. "It's no secret the Premier League is an option for me.
"No one has come to any agreement and it will stay like this until the summer.
"I think that anything is possible for me if I leave. I have to think about this for myself, and make the right decision.
"I've heard that people have written that I might go to England. But there's nothing new from my point of view.
"The situation is that I don't have any agreement right at the moment [at Bayern]. On the other side there is no agreement in place anywhere."
United may miss out on a Champions League place this season but Kroos said that would not lead to him automatically discounting the club as a possible destination.
"I will consider everything," he said. "If I should leave."
There is speculation in Germany that Kroos is simply angling for an improved deal from Bayern.
And Bayern boss Pep Guardiola was quick to stress that he is keen for the player to remain where he is.
"Toni is a great talent, a good, good player. He's young. He can be better and better. He can improve," Guardiola said.
"I said to him you have time to become an even better player. I hope he maintains his form this season - and for more seasons at this club."
Kroos already has 42 Germany caps and has been a key man for the all-conquering Bayern side this season, scoring in the 2-0 first-leg win at Arsenal.