Champions League: Joe Hart optimistic ahead of Manchester City's trip to Barcelona
Joe Hart believes Manchester City are capable of stunning the Nou Camp and knocking Barcelona out of Europe.
Last Updated: 12/03/14 8:17pm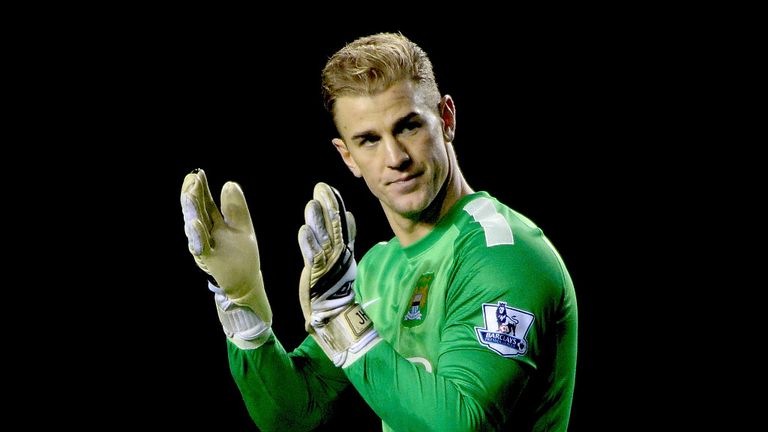 City head into the second leg of their UEFA Champions League last-16 encounter with a continental mountain to climb following a 2-0 reversal on home soil.
They were, however, undone at the Etihad Stadium after seeing Martin Demichelis dismissed and had more than held their home with 11 men on the field.
That means there is still all to play for heading to Catalunya, with Hart of the opinion that City can turn the tie on its head and make their way into the quarter-finals.
He said in The Sun: "The tie is not over. We'll remember what we've done this season and what we are capable of.
"A positive performance is key. We need to go out there and show we can really play against the likes of Barcelona.
"We've already shown what we are capable of by winning in the group stage away at Bayern Munich. It's tough but it's not impossible."
Since winning in Manchester, Barcelona have suffered shock domestic defeats against Real Socieded and Real Valladolid, but Hart believes league form will count for little on Wednesday.
He added: "Does their form have a direct bearing? It does and it doesn't - but we understand what big games do to Barcelona.
"They've been in the latter stages of the Champions League many times.
"We can't read too much into their away league form against the lesser sides in La Liga, especially as they are at the Nou Camp against a British side with a place in the quarter-finals at stake."
Hart also believes that City can take heart from their first-leg performance, with Barcelona having been contained with relative ease prior to Demichelis' red card for chopping down Lionel Messi.
The England international said: "I felt we were there in the first leg, had sized them up and were ready to go.
"But stuff happens in big games and if you give a predator like Barcelona a sniff of blood, that's what happens.
"Martin missed the ball by inches but that can be the difference in games of this magnitude."