Sky Sports News survey reveals poor state of grassroots football: poor facilities and lack of funding to blame
A Sky Sports News survey has revealed poor facilities and a lack of funding are killing off football at grassroots.
Last Updated: 17/03/14 9:51am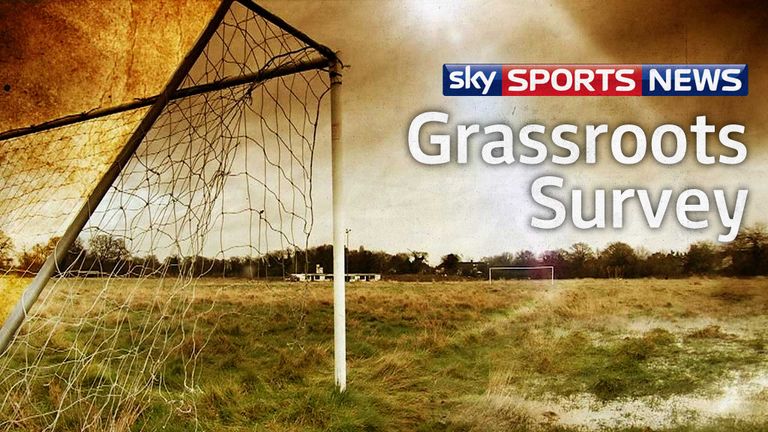 More than two and a half thousand people responded to our survey enquiring about the barriers to participating in 11-a-side local football.
Poor quality pitches and a lack of provisions from local authorities came top of the issues raised.
More than 65% of respondents said they did not think local councils did enough to support facilities and the costs of low-level football, and 83.7% said the FA do not do enough to preserve the grassroots game.
The time demands of participating in local sport was also an issue, especially when poor weather affects already worn pitches and games end up backlogged into the spring.
One viewer, Lee from Glasgow commented on Skysports.com: "One of the constant challenges is cancelled games and training sessions due to unplayable, waterlogged pitches from November to March.
"The end of the season is then a problem due to accumulation of games and the need to play 2 or 3 times per week."
Whilst the weather is no fault of any authority, there is a consensus that in the event of extreme weather, local services could do more to prevent damage to pitches and then help return them to a playable state.
'3G' artificial pitches have been offered as a potential solution, but the costs of implementing and then maintaining them would be a further drain on already limited resources.
Another respondent to the survey, Mark Roberts, said: "I would like to see the FA help schools with investments into 3G or 4G pitches. There are three schools in the area where I live and I am sure that would be enough so that teams could play week in, week out, regardless of the weather.
"I also think that local leagues, especially for the young, would be better moved to spring or summer."
Women and girls have recently been identified as a low-participatory demographic being targeted for change - and according to survey feedback, they are more prone to dropping out of the sport when poor weather causes long breaks in training and cancelled games.
The decline in quality of pitches was also highlighted as being a safety risk.
Sam, a former player from Dorset, has suffered two breaks due to dangerously under-maintained pitches in his local area.
"I have broken my ankle twice playing on poor standard pitches with potholes covering them and as a result, I no longer play. I really miss it though," he said.
"I cannot afford another break with work and family commitments. I have seen too many people to count suffering serious injury - not due to challenges, but due to the state of the pitch."
Other findings of the survey saw a demand for better officials and referees at the lowest level, and cheaper fees in accordance with the standard of provisions currently available.
FULL RESULTS OF THE SKY SPORTS NEWS SURVEY
1: How often have you played 11-a-side football in the last six months?
Once a week - 42.1 %
Once a month - 7.7%
Not consistently (now and then) - 16.9%
I don't play anymore - 33.3%
2. What prevents you playing 11-a-side football every week?
Time demands - 20%
Cost - 10.1%
Poor facilities / pitches - 33.4%
Other form of game (eg 5/7 a side) - 11.3%
N/A I play regularly - 25.2%
3.What is the biggest problem facing the future of the grassroots game?
State of facilities/pitches - 44.3%
Cost - 22.1%
Anti-social behaviour - 12.8%
Lack or standard of match officials - 10.1%
Other - 10.7%
4.What would entice you back into playing regular 11-a-side football?
Cheaper fees - 15.2%
Better facilities/pitches - 36.8%
Better match officials - 7%
Different form of game (shorter games, evening leagues, roll in roll on subs) - 13.3%
N/A I still play - 27.7%
5.How do you rate the football facilities in your area?
Excellent - 3.3%
Good - 17.3%
Average - 33.7%
Poor - 29.4%
Very Poor - 16.3%
6.Your local council does enough to maintain pitches/facilities
Strongly agree - 2.9%
Agree - 12.3%
Neither agree nor disagree - 19%
Disagree - 35.1%
Strongly Disagree - 30.7%
7.Your local FA does enough to preserve the grassroots game?
Strongly agree - 3.9%
Agree - 14.6%
Neither agree nor disagree - 26.2%
Disagree - 32.9%
Strongly Disagree - 22.4%
8.What could your local FA do to improve the grassroots game?
Improve facilities/pitches - 46.5%
Lower match fees - 16.6%
Offer alternative forms of the game - 18.3%
Improve standard of referees - 10.1%
Other - 8.5%
9.Do you think the national FA does enough to preserve the grassroots game?
Yes - 16.3%
No - 83.7%
10.What could the national FA do to improve the grassroots game?
Invest in better facilities - 37.9%
More 3G pitches - 28.3%
Better standard of referees - 7.1%
Make game more affordable - 18.2%
Other - 8.5%