Ian Wright calls on football authorities to send out a clear message over racism
Ian Wright wants football's authorities to act on a report which outlines the scale of abuse taking place on the pitch.
Last Updated: 20/03/14 11:00am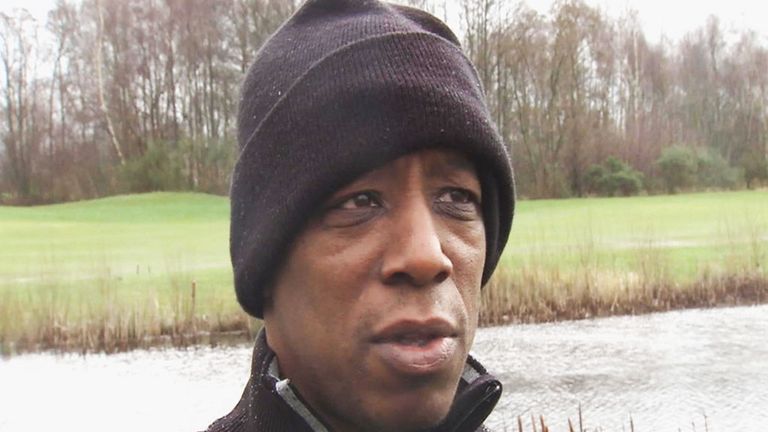 The consultation, undertaken by Kick It Out, showed over half of Premier League and Football League players have either witnessed or been subjected to racist abuse in football stadiums.
The results highlighted that 92% of players thought fan-on-player discrimination was common or extremely common and showed that 57% of players have witnessed racist abuse in football stadiums, while 26% have witnessed homophobic abuse on the training ground or in the dressing room.
The anonymous poll was carried out by 200 current professional footballers (32% black and minority ethnic) from across the Premier League (15%) and Football League (85%) between August and December 2013 and was sent to every Premier League and Football League club.
Now former Arsenal and England striker Wright believes the time has come for a clear message to be delivered outlining exactly where governing bodies across the world stand on the issues.
Speaking to Sky Sports News ahead of the John Hartson Foundation Golf Day at Loch Lomond, he said: "We never really deal with it properly. We never get it stamped out.
"We need to get people who have been involved in racism and people who have been victims of racism sitting on these boards so they can understand what is going on.
"Then they can say 'I would feel like this, you cannot say that, I am not offended by that, I really wouldn't want to hear that, etc etc.
"But all that happens is the issue just goes round and round and I am now tired of talking about it.
"We need to hear from these people when no incident has happened. They always react to issues but what is going on day to day?
"You want to know that people are still in the trenches doing certain things, but not just because a black ex-England player has said something and everybody jumps on it.
"It's something that has to be dealt with - in public - it has to be a continuous process and show we are not afraid of it.
"What needs to happen is they just need to really clamp down on it. UEFA, FIFA... the lot of them.
"You can't have players walking off pitches because they have been racially abused, but the fact is if you are going to get these ridiculous fines which makes players think they have to take things into their own hands, then that's not good for the game."