Champions League: Chelsea captain John Terry says Didier Drogba is still world class
Chelsea captain John Terry believes Didier Drogba is still world class after facing him in the 2-0 win over Galatasaray.
Last Updated: 19/03/14 6:13am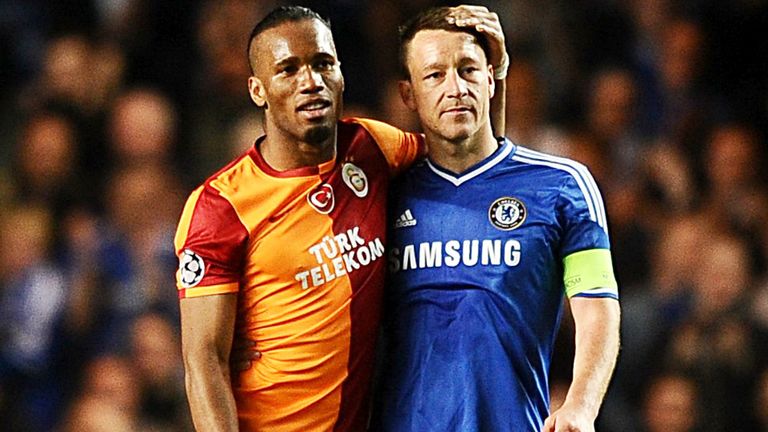 Drogba was relatively ineffectual on Tuesday night - failing to have a shot on target - as first-half goals from Samuel Eto'o and Gary Cahill secured a 3-1 aggregate win and booked the Blues' place in the Champions League quarter-finals.
The Ivory Coast striker netted 157 goals in his spell with the Blues before leaving in 2012 after netting the winning penalty in the Champions League final, although Jose Mourinho has recently fuelled speculation of Drogba re-joining the club.
He received a hero's reception on his return to Stamford Bridge and Terry, the man tasked with marking his former team-mate, could not speak highly enough of the 36-year-old after spending eight years together in the same side.
"It was really strange actually - even in the first leg, he's so strong," he told Sky Sports.
"When the ball goes up from the keeper, no matter how strong you are, you can't get it off him and I don't think there's anyone better in the world, even still today doing that job in that role.
"He's still a massive threat and still a top, top player and I think it was great for him to finally get a proper send-off from the Chelsea fans tonight.
"Didi's been in the dressing room saying 'hello' to everyone, it's like the old boys reuniting tonight but it's a good win, there's some happy faces and now we focus on the weekend."
It was a straightforward win for Chelsea, who now go into Friday's quarter-final draw and Terry was pleased with his side's display.
He said: "I thought it was fairly comfortable tonight throughout the game. Didi had a chance late on, but other than that, they didn't really threaten.
"I think with the early goal as well, that settled us. But even at 2-0, they were always in the game because a goal puts us on a knife edge at the end. But thankfully it was 2-0 and another clean sheet."
Asked who Chelsea would prefer in the draw, Terry replied: "We're confident. There's some really, really good teams in it actually but we're happy to put ourselves through and we'll wait for the draw on Friday."
Goalkeeper Petr Cech was also happy with the Chelsea performance and he too was quick to hail Drogba on his Stamford Bridge return.
"Well I think the team was absolutely brilliant from start to finish and that was the key," he said.
"When you score an early goal, it was a big blow for them. Obviously, it gave us the advantage and we knew that if we kept playing, if we kept going, we could have another goal.
"We played the second half the same as the third, we searched for the third goal and we didn't allow them back into the game.
Speaking of Drogba, Cech said: "I think Didier got exactly what he deserved - the crowd was brilliant with him as he was brilliant with us in all those years playing at Stamford Bridge."