Transfer News: Everton manager Roberto Martinez set to splash out on summer wish list
Roberto Martinez has revealed Everton are ready to invest heavily to bolster their squad and improve facilities.
Last Updated: 28/03/14 3:52pm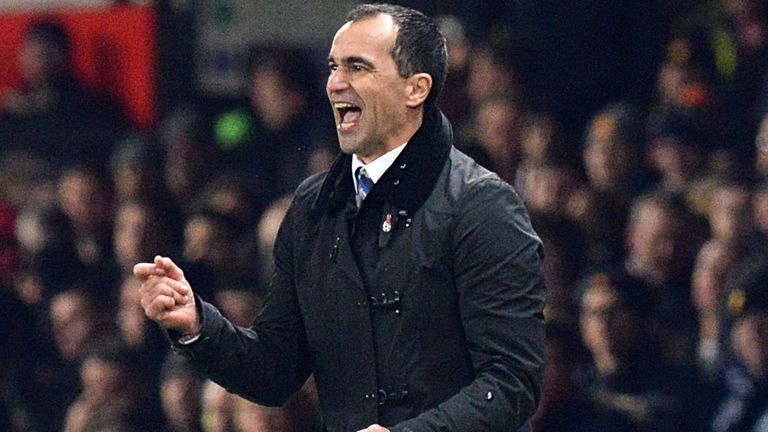 Everton are yet to spend the majority of funds received last summer from the sales of Marouane Fellaini, who brought in £27million from Manchester United and Victor Anichebe, who cost West Bromwich Albion £6million.
The Toffees also sold Nikica Jelavic to Hull in January for a fee which could rise above £7million should the Tigers avoid relegation, which they look poised to achieve.
Martinez's only outlays since have been the £13million signing of James McCarthy, with a reported £2million spent on the loan of Romelu Lukaku from Chelsea and another £1million on Gareth Barry's from Manchester City for the season.
The Spaniard spent little in the January transfer window too, with Aiden McGeady costing less than £1million, while Lacina Traore was brought in on loan to replace Jelavic.
Everton are currently six points ahead of Manchester United in the race for Europa League football and could potentially eclipse Arsenal and cash in on a Champions League pot of around £40million.
Martinez understands he will have to strengthen his resources to compete on the continent and manage the demands of extra fixtures.
"We've got money but I didn't want to spend it in January," Martinez told reporters.
"The cash has been here before but in the past they [Everton] have spent £10m in one window, £6m in another window.
"What we have done is bring in loan players, short-term players, and used the young players to accumulate money. It is about spending it a little bit at a time or all at once. I prefer to stockpile for the summer.
"Having to sell players, reduce the wage bill and keep money from other areas to make a big pot is what I've been aiming for over the last 10 months."
Wish list
Martinez still has a game in hand on fourth-placed Arsenal, while United are struggling to keep pace in seventh, meaning Everton are primed to secure a European spot and the former Swansea and Wigan manager is ready to add strength in depth.
"I always found you can work on a squad of 21 players in the league and for domestic competitions," he added.
"You need around 27 players plus keepers for Europe. It doesn't have to be 27 senior players, it can be young players too, but 27."
Martinez also admitted he already has targets in mind, saying: "We have identified what we need for next season in terms of the areas, and then you start working on our wish list.
"If you get into the Champions League you can look for your number one choice. If not, you're going to number four, five, six and maybe seven or eight. But we have got the money and it is there to be spent."
Everton will also benefit from television money ahead of the new season and Martinez is eager to invest in the club's infrastructure as well as on-field development.
Despite their Finch Farm training base only being built in 2007, Martinez is keen to add further facilities for players to rest and between training sessions and stay over before matches.
"We need bedrooms for the first team and the option to get digs for the young players to stay on site as well," he said.
"We are two pitches short and we need to have a full-size indoor facility for all the age groups. The facilities here are terrific but the demands every season change and you need to be up to date."