Chelsea boss Jose Mourinho says Sir Alex Ferguson is not to blame for Man United slump
Chelsea boss Jose Mourinho says Sir Alex Ferguson is not to blame for Manchester United's current plight.
Last Updated: 29/03/14 10:07am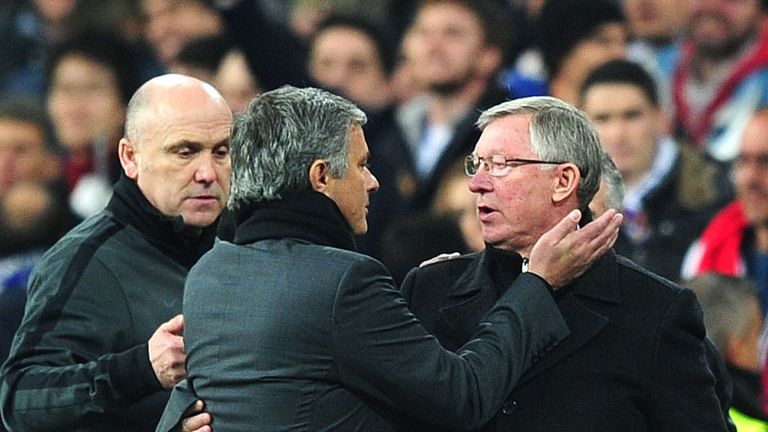 Mourinho's Chelsea side head into this weekend's fixtures in a title fight with Manchester City and Liverpool while Premier League champions United are 18 points adrift in seventh place.
David Moyes is enduring a challenging first season in charge but some fans have pointed the finger of blame at Ferguson, who hand-picked as his successor.
"Lots of people are speaking about Sir Alex. He made Man United what Man United are," said Mourinho.
"He decided to retire. When somebody decides to retire, especially a person like him, he deserves to retire. He deserves to enjoy his life.
"And now he's responsible for what? Man United lose a match it's his responsibility? Man United struggling in the Premier League is his problem?
"(Wayne) Rooney misses a goal, it's his fault? Or (David) de Gea makes a mistake and it's his fault?
"He can only be blamed for one thing: Man United being the club Man United are. He's retired. Let him retire in peace."
Premier League chief executive Richard Scudamore this week suggested an under-performing Manchester United was bad for the competition.
Mourinho, who returned to Chelsea after a near-six-year absence last summer, contends there are other damaging aspects for the Premier League as he once again railed at the performance of referee Chris Foy in the controversial defeat at Aston Villa.
"There are lots of things that are bad for the image of the Premier League," Mourinho said.
"A performance like Mr Foy is not good for the Premier League. Players cheating is not good for the image of the Premier League.
"We have only two teams in the quarter-finals of the Champions League. It's bad that we have no teams in the Europa League."
Like Chelsea, United are in the last eight of the Champions League.
If Moyes wins the European Cup with United, then the success of the season will be reassessed.
Mourinho added: "Why are we speaking about failure, failure, failure? Let him finish the season. If he wins the Champions League..."
It has been suggested Moyes is struggling to motivate his players.
Talking about Chelsea, Mourinho believes a manager can provide additional motivation.
He said: "They (players) need self-motivation, but they also need the extra motivation coming from external sources.
"And the external source, for me, is the manager, is the club, is the fans."
Moyes thinks even Ferguson would have struggled with the current Manchester United squad this season.
"If Sir Alex were here this year it would be difficult for him as well and I'm sure he'd agree," said the United boss, who is unfazed by talk of a planned protest by fans on Saturday.
"People are aware there's a squad that is ageing, so it would have been a tough season for whoever was in charge of United this year. It could have been the case no matter what."