England's Karen Carney has sights set on 2015 World Cup
England's Karen Carney thinks that the 2015 World Cup in Canada will be 'something special.'
Last Updated: 03/04/14 10:16am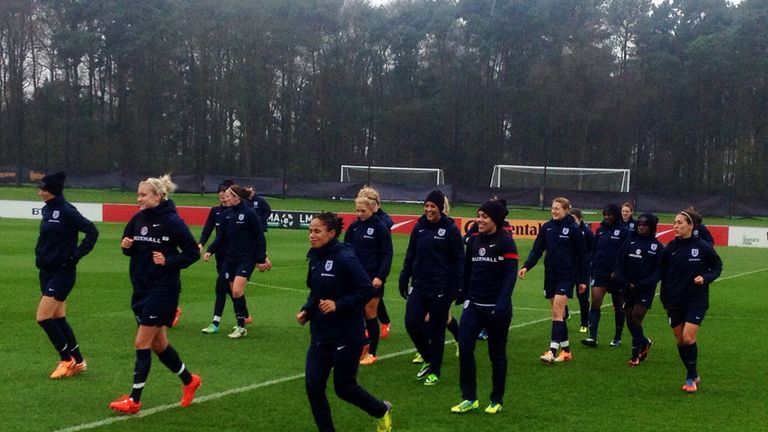 The team face Montenegro in their fifth qualifying match at Brighton's Amex Stadium on Saturday and they have won their first four games to top the group without conceding a goal.
Birmingham City Ladies captain Carney played in the 2007 and 2011 tournaments in China and Germany respectively. But she thinks that the way the game has grown in recent years gives the 2015 World Cup the potential to be a landmark occasion in women's football.
"I think it will be the biggest so far because of honestly how far the game has come. It's scary how much people are interested in following us and in supporting us," she told Sky Sports News.
"We still want more and I think Canada will be exactly the same, there will be big crowds, they have a big following over there and close links with the Mexican and American leagues as well.
"It's massive over there. The World Cup will be something special and one which we want to be a part of. If that isn't a big enough motivation to try and win these qualifying games then I don't think anything will be."
The Montenegro match will be new coach Mark Sampson's first qualifying game in charge and he said it was a great time to be part of the women's game.
"It's an incredibly exciting and fantastic time. Now is the time and we have got a responsibility to try and keep that going," he said.
"First and foremost we have got to qualify for the World Cup which is our main focus but then if we are lucky enough to get there then we can look forward to what will be an incredibly exciting competition with big crowds, fantastic venues and great opponents."
Sampson, who will also mark his first home game in charge on Saturday, added that his team will be taking bottom-placed Montenegro seriously and that he will not allow complacency to creep in.
"It's not often as a manager you take over a team that is top of the division. I'm obviously privileged to be in that position as a manger but credit has to go with the players coming back after a difficult summer," he said referring to England's disappointing Women's Euro 2013 campaign in which they finished bottom of their group and managed just a single point against the worst team in the competition, Russia.
"For us it's about progress, it's about laying down another marker. We want to make sure our performance is an improvement on the last one and if we do that we are confident we can win the game," he added.
"Montenegro even though they are bottom of the group will always pose problems. It's important we make sure we maintain our standards and show our intent."