Premier League: Darren Fletcher accepts Manchester United players' futures in doubt
Darren Fletcher admits he and his Manchester United team-mates are now fighting for their futures at Old Trafford.
Last Updated: 13/04/14 11:07am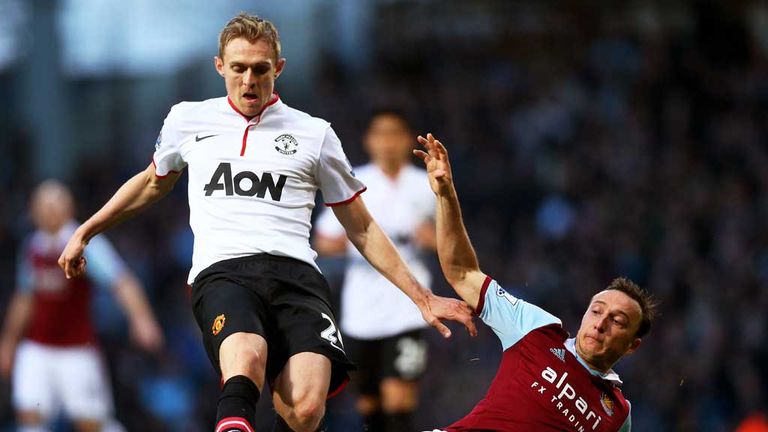 United's season is effectively over after they crashed out of the Champions League on Wednesday, losing 3-1 on the night and 4-2 on aggregate to Bayern Munich.
But Fletcher says the players who have let the club down in a very disappointing campaign must battle on and not allow their season to fizzle out.
United boss David Moyes is set to embark on a multi-million pound rebuilding scheme over the summer with Bayern's Toni Kroos and Borussia Dortmund midfielder Ilkay Gundogan already linked with the club.
Fletcher said: "The boys have got to play well to stay in the manager's thoughts for next season.
"There is talk of a lot of changes so if you get an opportunity to play, you have to go out there and perform and to show the manager that you want to be at United, that you are capable of being at United and you are good enough.
"A lot of people will say there isn't a lot to play for now, but there is - you are playing for personal pride and to be in the squad for next season."
Unless United win all their last five games and their rivals all suffer dramatic collapses, then they will not be in the Champions League draw next season for the first time since 1995.
Fletcher, who has seen United reach three Champions League finals during his 14-year spell at the club, is not looking forward to watching the competition without his club involved.
"Watching the Champions League (on television) next year will be difficult to take," the Scot said.
"We are used to playing in it all my career. This will be the first time we are not there. Hopefully the biggest thing that can do is give you more determination to get back in it.
"It is the pinnacle of club football and Manchester United need to be in this competition. As a player, it's the best feeling to play in the stadiums like the Allianz Arena against top quality sides. We have had success in it in the past and I am sure we will in the future.
"Next year, we won't just think about getting into the Champions League. We will think about winning the league and getting into Europe that way.
"The gap is not as big as people think. We have some fantastic players. There will be some signings too and hopefully they can take us to where we want to be."