FA Cup: Curtis Davies hoping to emulate Hull manager Steve Bruce at Wembley
Hull defender Curtis Davies is hoping to emulate his manager - and boyhood hero - Steve Bruce by winning at Wembley.
Last Updated: 13/04/14 3:19pm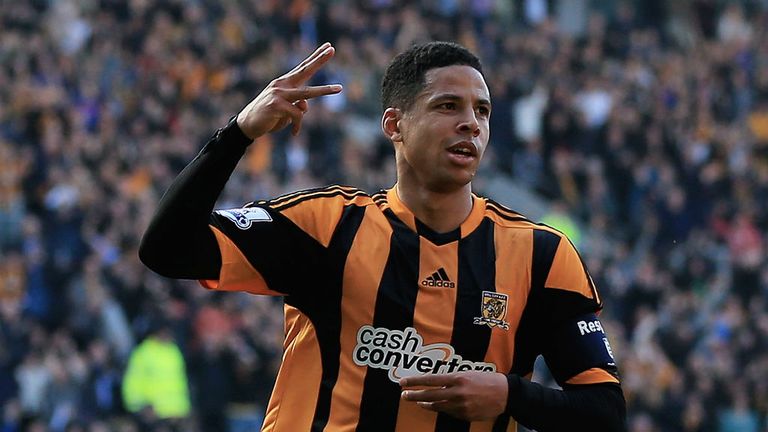 Hull are big favourites to beat Sheffield United in the FA Cup semi-final, and the Tigers will be one victory away from winning a trophy Bruce won three times as a player at Manchester United.
Davies was a United fan in that glittering era and Bruce was one of his heroes.
"It's all success with him!" Davies said of Bruce. "The gaffer was obviously joking around once and said 'I've never lost a semi-final and I don't think I've lost a final'.
"Then we had to remind him about the Everton final (which United lost) in 1995. He wasn't too happy about that but we had to remind him! We obviously had a bit of banter but we admire what the gaffer has done as a man and as a player.
"We want to emulate the success he had as a player as a manager for him. That would be massive for us."
Bruce won the trophy in 1990, 1994 and 1996 and Davies added: "I grew up as a Man United fan so I remember all those finals, especially the Everton one because they lost and the gaffer was on the line trying to stop the goal - I always remember that!
"As a youngster I was a striker. Like a lot of players you start as a striker then you get pushed down the field. But obviously I admired the gaffer and Gary Pallister back then.
"The partnership was quality, they complimented each other very well. But I'm a big fan of the gaffer. I've always gone on record to say he was the best centre-half not to play for England. That was always a shame at the time.
"I'm not sure they did posters of the gaffer! Maybe to keep kids away from the fire! I didn't have any posters of him. My posters were always of Andy Cole, Eric Cantona, of all the strikers. I had the Kanchelskis shirt when I was younger too. I think it cost my dad a bomb to get it put on the back."
Davies has been in brilliant form in his first season with Hull, and his performances have seen him linked with a call-up to the England squad.
He is confident however that he will be watching the World Cup this summer in his living room.
"From Roy Hodgson's own comments, he basically said if you haven't been in the England squad now then there is a slim chance you will go to the World Cup," he said.
"That is what the manager said himself. The only way I will get a sniff is if I go on a 10-goal scoring run and go as a striker or there are massive injuries to centre-halves.
"I don't think I've ever had a better season because this is the Premier League. I've had good seasons in the Championship but I don't judge myself by that level, I judge myself by this level. This is the most consistent I've been."
One possible consequence of Hull making it to the final will be European football next season - an unthinkable thought as they readied themselves for a first season back in the top flight last summer.
Davies was one of the players drafted in by Bruce to make City more than relegation fodder and the former Birmingham man admits his decision to buy into the project has paid off.
"It's only outside the club that we've exceeded expectations. I signed because I wanted to play in the Premier League but I wasn't too sure what I was going to see when I went into the squad," he said.
"I was very happy, considering this was a group of lads who had never played in the Premier League, I was delighted with what we had."