Luton Town promoted to Football League after winning Conference Premier title
Luton Town have won promotion from the Conference Premier - ending a five-year absence from the Football League.
Last Updated: 16/04/14 12:11am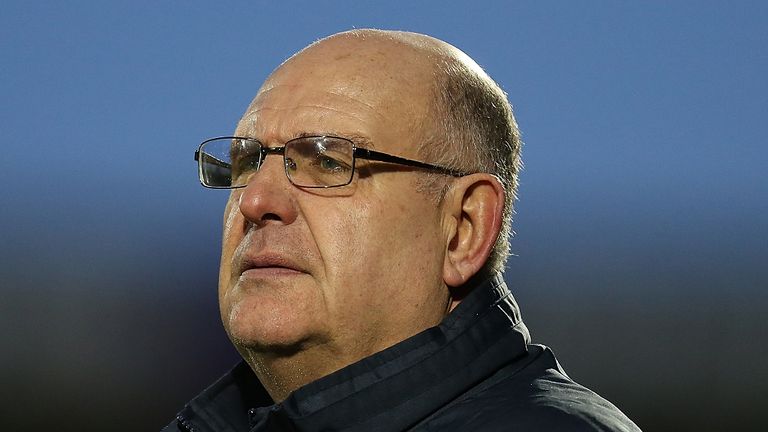 The Hatters were crowned champions on Tuesday night after second-placed Cambridge United lost 2-0 to Kidderminster Harriers, with the Us now trailing the leaders by 10 points with three games to go.
Luton have notched an impressive 95 league goals this term, more than any Football League team, and manager John Still revealed his delight to Sky Sports News following confirmation of their title win.
"It's been a fantastic year for us. This is my first year at Luton - the supporters have been so desperate to get back to what they feel is their rightful place and I feel really proud that I've helped them achieve that," he said.
"The staff and players have worked incredibly hard this year. We've had unbelievable support and we've pulled ourselves together as a club.
"The disappointment that Luton has suffered over the years - we've used that to make ourselves strong on and off the pitch, and it's a fantastic evening for anyone connected to Luton Town Football Club."
The Kenilworth Road club have been plagued by financial problems in recent years, causing three relegations in as many years alongside a 10-point deduction in the 2007/08 season and a 30-point deduction during their brief stint in League Two.
After TV presenter Nick Owen purchased the club in 2008, Luton have curbed their monetary difficulties and Still believes their promotion can kick-start a prosperous era.
"I think that 99.99%, if not 100%, of the supporters felt that the club was harshly treated. There was a lot of resentment attached to that. Every year that passed that they didn't get promoted - the resentment grew stronger," he said.
"We've been able to use that disappointment and resentment as a way of pushing ourselves forward. It's a new a Luton - a forward-thinking, hungry, ambitious football club. We've taken a step in the right direction.
"I think this club can keep progressing. Hopefully I can look back in years to come and say that I've helped this club progress through the leagues - to go on and get back into a position where the club feels it can compete at," he added.
"We're putting things in place, we've been very meticulous about how we've done this. We've planned it properly and we've made a step forward."