Lord Herman Ouseley believes club chairmen should 'think diversity' when considering managers
Kick It Out Chair Lord Herman Ouseley believes club chairmen should 'think diversity' when considering new managers.
By Devansh Trehan
Last Updated: 16/04/14 6:02pm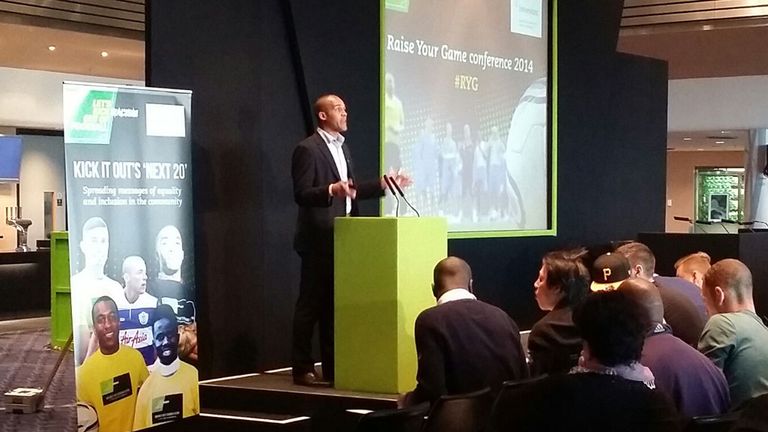 Chris Hughton's sacking as Norwich City manager last month means there are no black managers in the top five divisions of football in the UK.
And Lord Ouseley is calling on club chairmen and chief executives to broaden their horizons and give sufficient consideration to viable candidates from ethnic minorities.
"Whether you're black or white it seems that you're vulnerable to the whims of the board, the chair or the chief exec," he said.
"It's a results driven game and two bad results can mean you're out of work. When results are bad it can put pressure on a club to get rid of a manager.
"With Chris Hughton, I think Norwich had behaved fairly but in the end they panicked with five games to go. They were thinking do we stick or twist and in the end they have taken a gamble but they feel it is a risk they have to take.
"But those that ignore the potential of black managers probably have a very limited sphere of who are the people that can do the job for them.
"They ignore black managers because they never think equality, they never think inclusion and they never think diversity.
"They have got to be helped to see that if you want the best appointment you have to widen your sphere of candidates."
Lord Ouseley's view was echoed by former PFA chairman Clarke Carlisle, who claims organisations such as Kick It Out and Show Racism The Red Card can only do so much.
"The authorities should be doing more but they still can't make the decision of a chairman," he said.
"It is the football clubs themselves that have the inherent power to affect this issue and unless they buy into any of the initiatives instigated by the authorities or Kick It Out, Show Racism The Red Card or by the PFA then it is all utterly futile.
"They have to be braver and have to open their eyes to the possibilities of what is before them."
The pair were speaking at the Raise Your Game conference at Wembley Stadium - an event organised by the Kick It Out campaign to help boost the presence of under-represented communities in the football industry.
The event offered networking opportunities in addition to a range of seminars and workshops designed to help people identify viable pathways into the game.
Carlisle hosted the conference which also gave attendees the opportunities to have one-to-one conversations with coaches, football administrators and the media.
Brentford manager Mark Warburton and Barnet boss Martin Allen were among those offering guidance and support on the day.
Raise Your Game was attended by over 350 members of the public - more than double the number of people who attended last year - and Carlisle is delighted with the event's growth.
"The growth has been dramatic," he said. "There are 50 mentors here from every avenue of the game and the event has been phenomenal.
"It's great to be able to give people that platform enabling them to speak to some of the finest people in the game."