Randy Lerner to address rumours of Aston Villa sale at end of season
Aston Villa chairman Randy Lerner will not discuss his future at the club until the end of the season.
Last Updated: 21/04/14 6:21am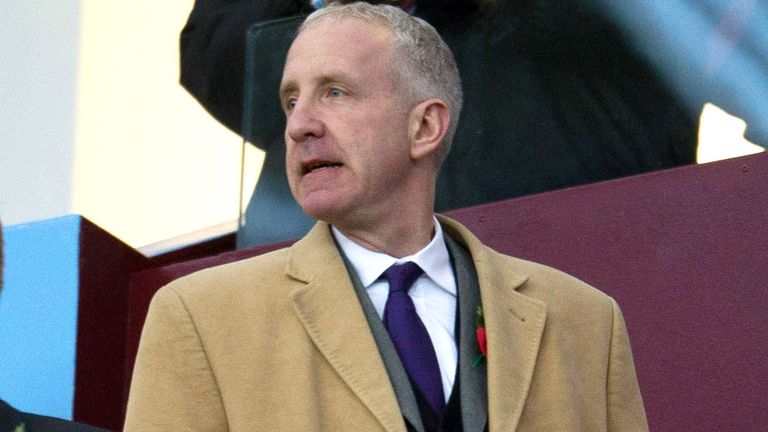 Reports have suggested that Lerner is planning to sell Villa in the summer, provided his struggling side remain in the Premier League.
Villa edged five points clear of the drop-zone after Saturday's battling 0-0 home draw with Southampton, but speculation about Lerner's future has taken attention from this result.
Lerner does not want Villa to be distracted from their survival fight, but his official statement has fuelled suggestions he could walk away in the summer.
He told the club's official website "Following the point yesterday at Villa Park, there have been stories about my selling the club. On a personal level, I had hoped the emphasis would have been on the amazing effort on the part of our manager and our players to regroup throughout a very difficult week.
"Injuries to Libor (Kozak) and Christian (Benteke), compounded with the early loss of Jores (Okore) and the difficult rehab of Charles (N'Zogbia) have no doubt left Paul with far less to work with than is fair.
"Still, Paul Lambert has done nothing but work within the parameters I've set, put the club first and continue to trust his players.
"As regards my personal role at the club and the steady rumours of a sale, I will address these after the season. Paul Lambert, Paul Faulkner and I speak daily and remain committed to the immediate job of limiting distraction and confusion in order that Villa have the best chance possible of finishing on a strong note."
Manager Lambert still retains the backing of Lerner, despite a difficult season for the Midlands outfit, but the arrival of a new owner could raise doubts about the Scot's future.
Lerner is thought to be considering 'significant' offers for Villa from Russia and the United States.
Lambert: Lerner still passionate
Lambert praised Lerner's contribution to Aston Villa and, when asked, was adamant the chairman is still passionate about the club.
"Without a doubt," said Lambert. "I don't think you do what he's done and not be passionate about it. He loves this club.
"Randy's always been great with me as an individual and someone to talk to.
"What he's done here has been phenomenal. We've got an incredible training ground due to him and an incredible stadium, it's been fantastic.
"He has spent one hell of a lot of money since he's been at the club."
But Lambert did agree that Villa may continue to finish in the bottom half of the table unless more funds can be found for signings.
"The finances are vital for this league," he said. "The better the players you buy, the better chance you have of doing something.
"All the players I've been linked with cost one hell of a lot of money. If you don't have it, then you have to work within the parameters that you've got.
"With this league, and how hard it is, you've got to look at it and say, 'Okay, we can go and get x, y and z'. But the big ones I've been linked with, you couldn't do it."