Premier League: Per Mertesacker senses Arsenal are back on track after injury problems
Per Mertesacker believes the return of some leading players from injury will give Arsenal impetus to secure fourth.
Last Updated: 22/04/14 9:45am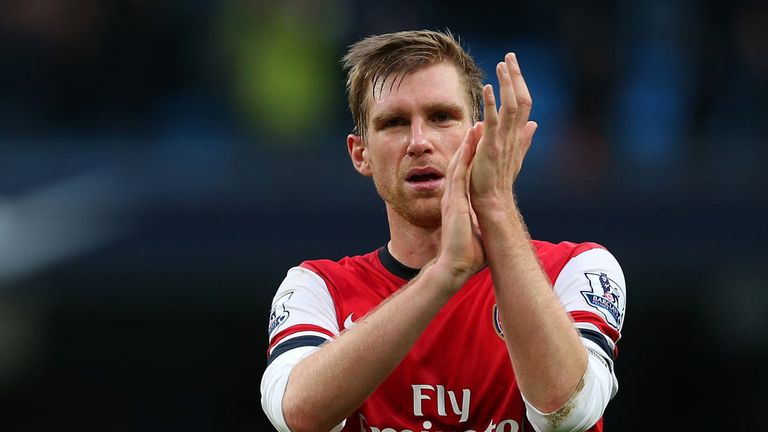 Arsene Wenger's side have spent much of the season in the top two but their title challenge faded badly in March and defeat by Everton earlier this month put UEFA Champions League qualification in serious doubt.
However, they have since bounced back with a couple of victories, whilst also making it through to the final of the FA Cup after beating Wigan Athletic on penalties.
The upturn in form has coincided with Aaron Ramsey's return to action after a long lay-off, while Mesut Ozil is also now back fit and Lukas Podolski is performing well.
Mertesacker feels the injuries have been a major factor behind Arsenal's struggles this season but is now confident they can finish in the top four.
"We need these moments where you can see we've got great players and some great finishers with Lukas Podolski on the scoresheet and Aaron Ramsey back on track, Mesut back on track," Mertesacker told the club's official website. "All these players could make a difference.
"When you have your whole squad together for as long as possible, that can make a difference. We suffered a bit in the second part of the season but now everyone is... coming back to full fitness. We've had some long-term injuries and it's good to have them all back."
Mertesacker added: "We have the potential to be a very promising side in terms of title races, but if you can't keep your leading players fit all the time it makes it a lot more difficult.
"We are determined to keep fourth position."
Arsenal's latest win was a 3-0 success away to fellow FA Cup finalists Hull City on Sunday, and Mertesacker was delighted to come through a tough test to pick up three points.
"I think at the start, Hull played very well, they put pressure on us all the time," Mertesacker added. "They played with two strikers (Nikica) Jelavic and (Shane) Long. They played quite decent together as well so it was quite tough.
"We were lucky [at times] but overall when it was really, really close we had a good response.
"I think the whole team has to switch on quicker than normal to avoid those balls behind us [when we face two strikers]. I got booked very early so I always had to be aware.
"To cover each other is a vital point. We didn't do enough of that in the first 15 or 20 minutes but after it was much easier, especially in the second half, we got more possession, we were more dangerous and we've got some decent finishers in our team as well.
"That made it much easier in the second half to have better possession and play all the way through. We didn't lose a lot of balls in the middle of the park, that's what hurts us a lot. But we avoided that."