FIFA's Sepp Blatter predicts successful World Cup despite concerns over safety and stadiums
Sepp Blatter has downplayed concerns over safety in Brazil with less than 50 days until the World Cup begins.
Last Updated: 24/04/14 11:46am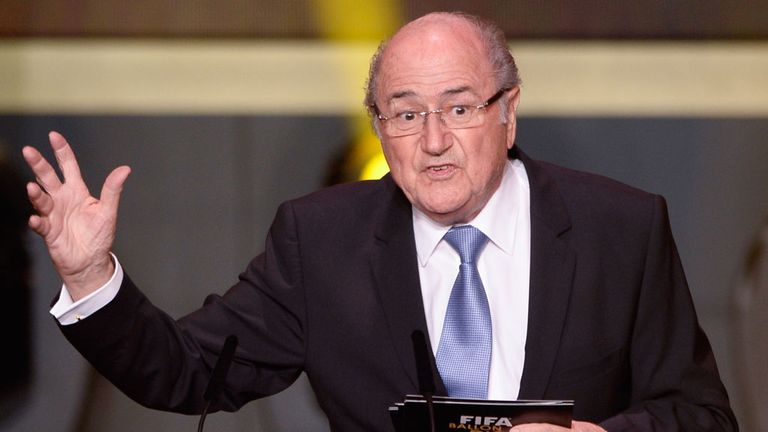 This week's 50-day countdown has been clouded by riots in Rio de Janeiro's famous Copacabana area which followed the shooting of a 26-year-old man.
England will be based in Rio, a city likely to attract thousands of supporters from around the world this summer, and Brazil-based journalist Tim Vickery told Sky Sports News this week travelling fans should take extra care during the finals.
But FIFA president Blatter is confident the authorities in Brazil can cope with the extra security demands and expects the tournament to run smoothly - as it did in South Africa four years ago.
He said: "Security is the matter of the government and the state. FIFA cannot ensure security. This is part of the commitment of the organising government, in this case the government of Brazil when they have received the World Cup.
"The same time, just four years ago, people were saying that nobody shall go to South Africa, that we should go with bullet-proof jackets because there's no security.
"Please believe me, football, football is stronger than anybody else, anybody and any other movement in the world."
FIFA general secretary Jerome Valcke has warned there is "not a minute to waste" as some World Cup venues remain unfinished.
But Blatter said: "It is my 10th World Cup, and I can tell you I have never seen a World Cup that everything is ready, completely ready before the kick-off.
"Football, with more than 300 million active participants, more than one billion fans, they are now waiting for this World Cup.
"It is in Brazil, it is a country where football has been, let's say the best footballers of the world are from.
"It will be a great tournament. Be optimistic as we are optimistic, football is optimistic. Football is giving emotions to the world today in this perturbed world we are living in."