Michel Platini: Clubs guilty of breaking FFP rules will not face European expulsion
Michel Platini does not foresee competition bans for the first clubs guilty of breaching UEFA's Financial Fair Play.
Last Updated: 24/04/14 4:36pm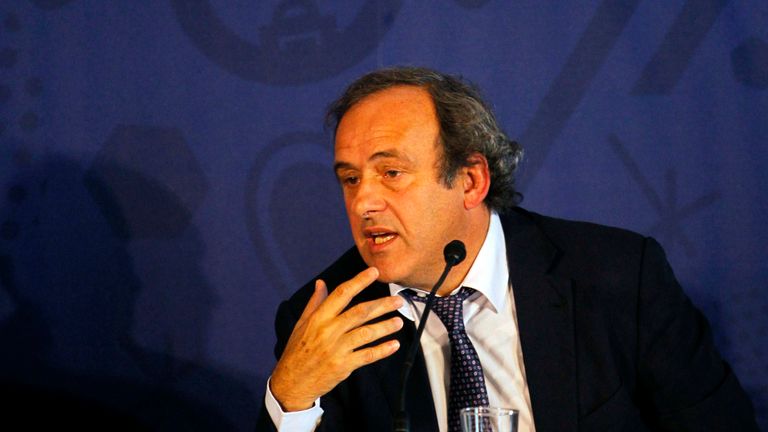 A number of unidentified clubs - less than 20 - are being investigated under suspicion of failing to comply with Platini's flagship policy, brought in to prevent clubs racking up big losses in pursuit of success.
The first verdicts are due next month, and expulsion from the Champions League or Europa League remains on the table as a potential punishment for guilty clubs.
But UEFA president Platini says he does not believe the most severe sanctions will be imposed this time.
"In effect, the first decisions will be announced at the start of May," Platini said in an interview with Le Parisien newspaper.
"But if you are expecting blood and tears, you will be disappointed. There will be some tough things but no exclusions from European competition."
UEFA will not disclose the identity of the clubs involved and whether any are English, but Arsenal, Chelsea and Manchester United have told Sky Sports News they are not under investigation.
And it is understood Manchester City do not believe they are in breach of the rules.
Clubs can spend around £37m (€45m) more than they earn until the end of next season - if it is entirely covered by a direct contribution from the club owner or a related party.
And Platini did mention the specific case of Paris St Germain, the French club owned by the Qatari Investment Authority.
He said: "I cannot talk about one club in particular, that is not my role. I will say simply that Paris St Germain's financial model is distinctive and atypical.
"That image contract with the QTA, the tourism office of Qatar, is innovative, that's all I can say. But is it viable? Is the value of the contract correct? Those are the answers that the experts must decide."