Luis Suarez named Football Writers' Association Footballer of the Year
Liverpool striker Luis Suarez has been named the Football Writers' Association Footballer of the Year.
Last Updated: 05/05/14 10:42pm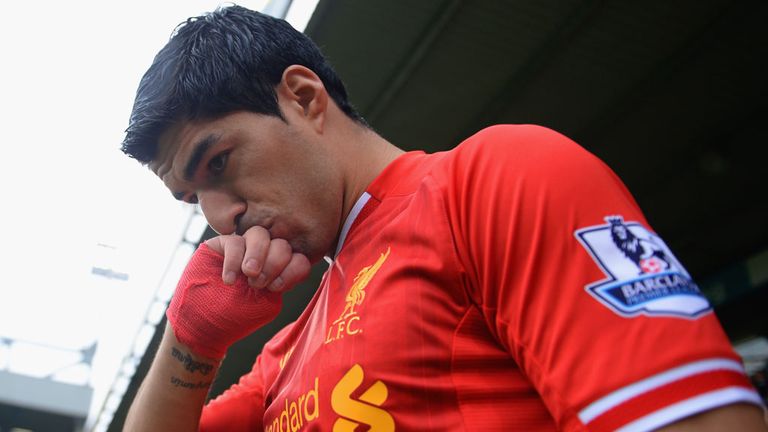 The award becomes the 27-year-old's second personal honour of the season after he was voted the Professional Footballers' Association Player of the Year last month.
It continues an incredible turnaround for the controversial Uruguay international, who at the start of the season was midway through a ten-match ban for biting Chelsea defender Branislav Ivanovic.
Suarez, who lost out to Gareth Bale last year, has scored 30 goals in 35 appearances this season - a huge contribution to Liverpool's on-going title challenge.
FWA chairman and journalist Andy Dunn told Sky Sports: "Luis is a remarkably gifted addition to the long and distinguished list of winners of our award.
"There was a groundswell of support for him last season but our voting opened 12 hours after the biting incident at Anfield, so I think that was taken into account then.
"I must stress that the football writers take into account the player's behaviour - the original citation for the FWA award back in 1947-48 mentioned 'precept and example', so that is taken into account.
"While no-one would say Suarez is whiter than white, you would have to say his behaviour all throughout the season has been very good and I think the football writers have taken that into account - an element of redemption if you like - and allied with those 30 goals, and the sensational talent he has displayed all season, that made him a very, very popular choice."
Suarez topped a poll conducted by over 300 journalists which included 10 different players. The former Ajax forward collected 52 per cent of the overall vote ahead of his club captain, Steven Gerrard, with Manchester City midfielder Yaya Toure coming third.
The award, which has been going since 1948, will be handed out at a ceremonial dinner at the Lancaster London Hotel on May 15.
Suarez has earned a host of plaudits for his performances, not least from Liverpool manager Brendan Rodgers who was delighted to see him named player of the year.
"Congratulations to him. It was an award that was really special for him because it came from his peers," Rodgers said of his 30-goal forward.
"He has been outstanding in all my time here and obviously, in particular, this season.
"So it was very well deserved and I know he really respected it, coming from the players in this country. I know he's happy.
"To know that he's happy is important, like it is with all of our players.
"It's very important that we have players here that are content, happy and focused on Liverpool."