Women's football: Mark Sampson expects tough game for England against Ukraine
England manager Mark Sampson is expecting a tough test for his side against Ukraine on Thursday.
By Dev Trehan
Last Updated: 08/05/14 11:37pm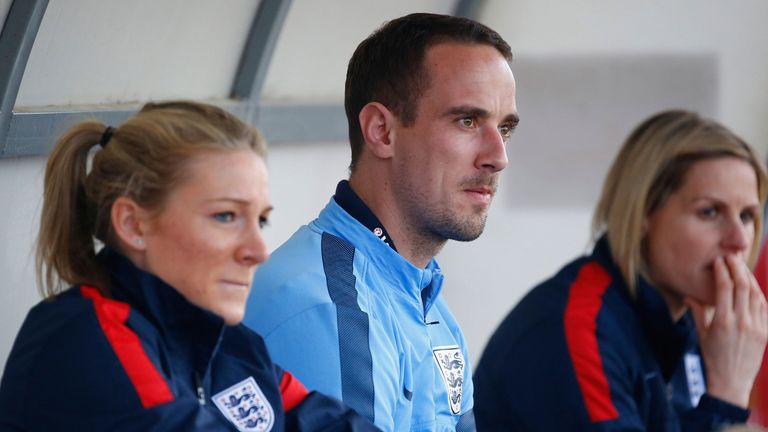 Sampson's second competitive match in charge of the national side sees England entertain Group 6 rivals Ukraine at Shrewsbury's Greenhous Meadow stadium on Thursday.
Ukraine currently lie third in the standings behind Wales and England and Sampson believes they will give England a stern examination of their World Cup qualification credentials.
"We know a lot about Ukraine and it seems like along with Wales they will be competing with us for that top spot in the group," Sampson told Sky Sports. "It's important we go into the game with a positive mindset and we try and win.
"But it's also important we continue to grow as a group. We have to put some work in on the training ground, listen to each other and try and develop our identity further.
"We want to put on a good performance, but certainly, it will be a big test.
"Ukraine have got some talented individuals and they will possess a huge threat on the counter-attack."
Ukraine have only conceded two goals in the opening three matches of their qualification campaign for a place at the World Cup in Canada 2015.
And Sampson admitted he does not think it will be easy for his side to breach the well-organised Ukranian defence.
"It's a different type of challenge to any other that we have faced yet and I'm really looking forward to seeing how the players adapt to it," the 31-year-old said.
"We have to realise that we are a top ten nation. We're an England team where a lot of teams will come and try and make it difficult for us.
"We have to find ways of getting through and opening that door whilst ensuring that ours is shut.
"That will be the big challenge for us against Ukraine - to ensure that we are positive and we try and take the game to them and score goals. But we will also be switched on to make sure we win the ball back as soon as possible to build momentum.
"Ukraine will prove a difficult threat. They've got pace in their team and quality in good areas. They're really well organised so for us so it is an exciting challenge."