Manchester United might wait until next week to announce new manager
Manchester United have remained silent about their new manager and might wait until next week to make an announcement.
Last Updated: 16/05/14 6:42am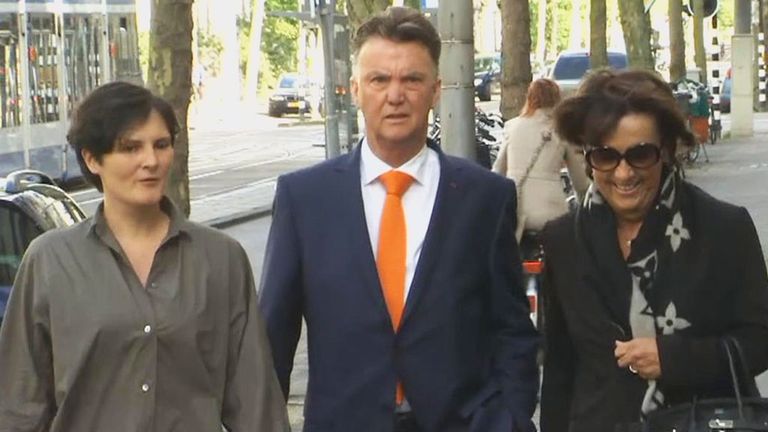 United are thought to be close to a deal with the Dutchman, who is currently preparing Holland for the World Cup in Brazil, but look likely to wait a few more days before unveiling van Gaal as David Moyes' successor.
Van Gaal is preparing the Netherlands for a friendly against Ecuador on Saturday night, although it is understood he could head to Manchester on Monday before flying out to Portugal for a pre-World Cup camp the following day.
The 62-year-old has faced constant media attention in recent weeks, but insists the speculation has not distracted him from his day-to-day duties.
Reflecting on his lengthy career, he told Sky Sports News reporter Gary Cotterill: "I'm now for more than 40 years. I started as a professional player 19 years.
"In about three months I'm 63. Sixty three minus 19, more than 40 years. More than 40 years in this football world, so I can manage that."
Ryan Giggs, who took charge temporarily following Moyes' sacking after just 10 months in charge, held 'positive' talks with van Gaal in Holland on Wednesday to discuss his role in the new Old Trafford set-up.
The Welshman is expected to be offered a coaching role, but it remains to be seen whether he will extend his playing career.
Swansea goalkeeper Michel Vorm, a member of the Netherlands squad, believes his national boss could have a successful spell in England.
"I think he's a coach who has a lot of experience obviously and the type of manager that treats everybody the same," he told Sky Sports News.
"He's very direct, he knows what he wants, so I think it's a good coach who really will suit Manchester United.
"He showed in the previous clubs he worked with, he did really well and I think he will do the same with Manchester United.
"He loves his job, he's not afraid to show it, but everything is in discipline and a lot of thought about it. He knows what he wants, he will show it."
The 62-year-old has already made it clear he would love the chance to succeed Moyes, and a deal is now expected to be confirmed next week.
Van Gaal has won the league with all four of his clubs - AZ Alkmaar, Ajax, Barcelona and Bayern Munich - and also won the Champions League and UEFA Cup during his time with Ajax.