Marlon King sentenced to 18 months in prison for dangerous driving
Marlon King is back in jail after being sentenced to 18 months in prison for dangerous driving.
Last Updated: 15/05/14 5:32pm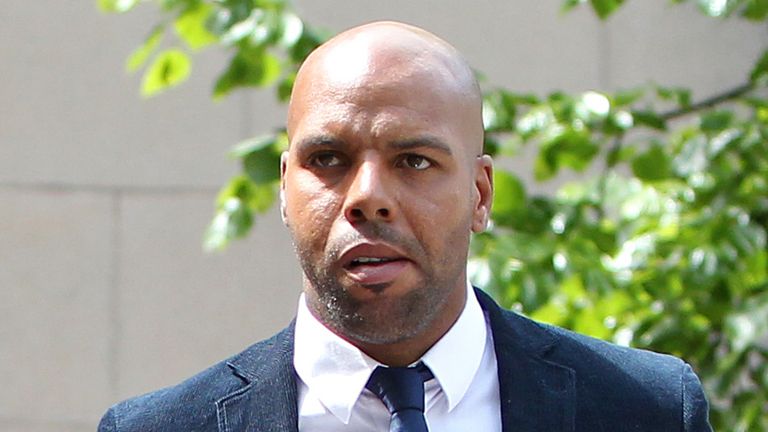 The 34-year-old former striker, who has a string of convictions for various offences dating back to 1997, was involved in a car crash in April last year which left a motorist with a broken arm.
The former Gillingham, Nottingham Forest, Watford and Birmingham forward pleaded guilty to a charge of dangerous driving at Nottingham Crown Court in March.
King, currently without a club after being released by Sheffield United last year, was jailed and banned from driving for three years by Recorder Paul Mann QC.
The court heard that King committed the offence on his 33rd birthday while driving a white 2011 Porsche Panamera.
He was eating an ice cream while driving, and was seen weaving in and out of traffic before he undertook Martin Beck, who was travelling in the outside lane of the A46.
King slammed on his brakes and forced Beck to perform an emergency stop in his VW Polo, but as he came to a halt, his car was hit from the rear by Mark Bush in a Vauxhall Astra.
The "concertina effect" forced the Polo into the back of King's Porsche. Beck was airlifted to hospital and spent three weeks in hospital, undergoing surgery for a fractured and dislocated forearm.
Bush was also treated in hospital for cuts and bruises.
The court heard that King drove off from the scene but was flagged down by another motorist who feared Beck had been killed by the collision.
King returned to Beck's car, where he blamed the driver for the collision.
The judge told King: "You tailgated him (Beck) for some little while. He touched his brakes in the hope you would pull back but you didn't.
"Mr Beck saw an opportunity to get out of your way and he started to do so but you aggressively undertook him.
"The road ahead was clear for you. You could have sped away. Instead you decided to pull out in front of him. You slowed down, applied your brakes considerably and Mr Beck was forced to perform an emergency stop.
"Your offences and the consquences are too serious to merit anything other than a custodial sentence. I do not regard your case as merely impulsive or silly behaviour.
"It was aggressive. It was arrogant. You forcing Mr Beck to stop in the outer lane on a fast and busy dual carriageway on a Friday afternoon is little short of madness.
"The collisions and injuries that followed were forseeable if not inevitable.
"You were so pumped up with road rage, you had to start accusing him of being to blame for these collisions."
Charles Langley, defending, told the court King admitted he had been "frustrated" with Beck's driving and that the footballer was "genuinely remourseful" for the incident.
Langley said: "It was dangerous. He should never had done it and he accepts that and he is genuinely remorseful."
The former Jamaica international was previously jailed for 18 months in May 2002 after being found guilty of receiving stolen goods, although he was released after five months and returned to action with Gillingham.
In December 2008, King was found guilty of sexual assault and assault occasioning actual bodily harm and handed another 18-month prison sentence.
He was also placed on the sexual offenders register for seven years, prompting Wigan to cancel his contract.
King launched an unsuccessful appeal against the conviction and accused the PFA of not providing enough support to help his defence.