Premier League: Javier Hernandez looking forward to new season after frustrating year
Javier Hernandez says he is looking forward to the new season after a frustrating campaign at Manchester United.
By Andres Garavaglia
Last Updated: 17/05/14 4:22pm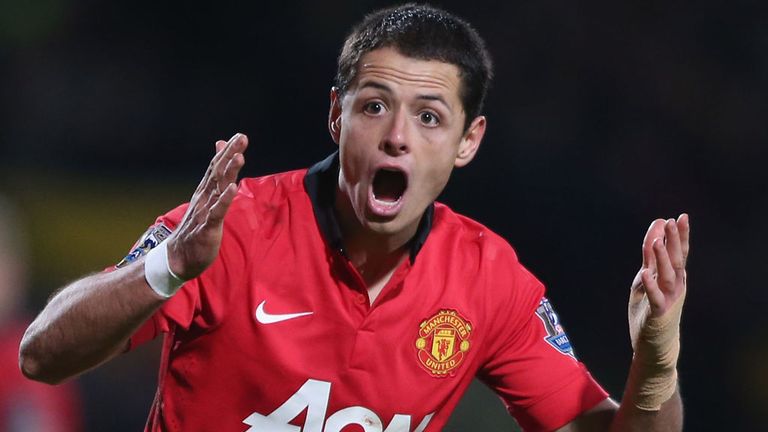 The 25-year-old started just six Premier League games in a disappointing year for United which saw them fall to their lowest top-flight finish since the 1989/90 season.
Speculation surrounds the striker's future, with Inter Milan the latest club to be linked with him, although he has two further years on his current deal at Old Trafford.
Hernandez managed to hit nine goals in all competitions despite being largely used as a substitute, but admits he hoped to have contributed more.
"This season I couldn't help my team too much because I didn't play so much, so it has been difficult because I saw them lose games," he told Mediotiempo.
"Every player in the world wants to play as much as possible, that's obvious.
"We want to play, but we understand that there are eleven players in the starting line-up, seven on the bench and that it's only one team.
"It's part of the game. For anything in life you need confidence and opportunities. If those opportunities don't appear, it's tough. But I am never going to avoid a challenge.
"It's been a difficult season for us, we didn't get the results that we expected, but now we have to forget this and look forward. Next season will be important for us."
The striker joined from Mexican side Guadalajara in 2010 and says he remains grateful that United gave him the opportunity to showcase his talents on some of world football's biggest stages.
"This club is special for me because it's the one that opened the doors to me for being in Europe for playing in the biggest team in the world," he said.
"I scored nine goals in 12 games as a starter and besides that, I didn't play as many games as other seasons. I feel very well.
"I feel that I have grown up as a player, I am totally adapted to this league and that is the most positive thing of this season for me."