Barcelona boss Luis Enrique tight-lipped over Cesc Fabregas amid Man Utd links
Barcelona head coach Luis Enrique refused to be drawn on the future of Cesc Fabregas, who has been linked with Man Utd.
By Lucas Brown
Last Updated: 22/05/14 2:09pm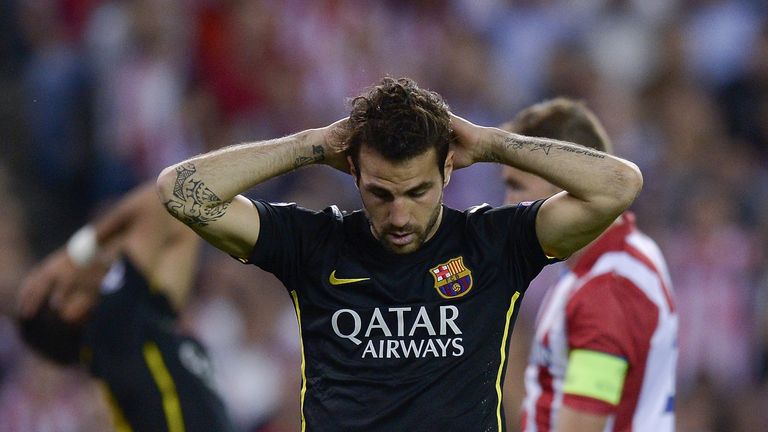 Reports have suggested that Fabregas is high on new United manager Louis van Gaal's transfer shortlist, along with Bayern Munich playmaker Toni Kroos.
During his presentation as Barca's new boss, Enrique remained coy on the future of the former Arsenal man and whether he is set for a move to Old Trafford.
"In principle, we have not taken any decisions like that because we still have time," he told reporters.
"Some players are now focused on the World Cup finals, which is their job, and how it should be.
"We need to assess and evaluate now and when the time is right we will go into that and we will talk about everything."
Enrique also remained tight-lipped regarding Xavi's immediate future at Barcelona, with the midfielder linked with a move to the MLS.
"He is a friend and a former team-mate," he said.
"We will sit down and talk about what he wants and what we want."
The former Celta Vigo manager did, however, highlight the importance of key duo Lionel Messi and Neymar, whilst acknowledging the need to bolster their squad for next season.
"Messi brings more that just goals. He is very important to the squad and we want him at his best. If he is not then we will help to achieve that," he said.
"Neymar is obviously one of the most important players in the team. He was a big investment and I am happy to have him."
"There will be changes in several positions, we need to strengthen the team as much as possible," he added.
"If you are not up to the job, it is time for a change. We will make adjustments in every area and the better players we have the better it will be for everyone because we will have a team that generates expectations."