Clermont Foot: New female boss Helena Costa urges no special treatment
Helena Costa wants to be treated normally after becoming the first female to manage a men's French professional team.
Last Updated: 23/05/14 12:55pm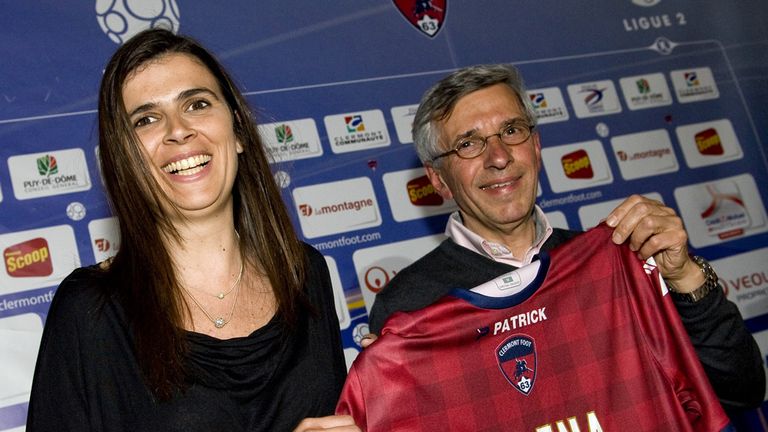 The 36-year-old Portuguese was unveiled to a packed media room on Thursday as the new boss of Ligue 2 side Clermont Foot.
More than a hundred journalists from around the world were in attendance for her first official press conference, where Costa outlined her expectations for what is certain to be a challenging campaign at a club that finished 14th in the French second tier last season.
She is the first woman to coach in the top two tiers of any of the five major European leagues.
"The impact of my appointment was huge, but I want people looking at me like a normal person and judge my work as if I were a man," said Costa.
"It is a pleasure to take this position [but] like men, if I do not have results, I will be fired like any other coach. This is normal."
Clermont have struggled financially in recent seasons and, even amid the increased exposure generated by Costa's appointment, that is unlikely to change anytime soon.
"As always, the budget takes a large share of responsibility for the results. But I'm here to win," she added.
"Although Clermont Foot is not a rich club, ambitions will be great. My goal is to win for Clermont. I am motivated by the project."
Costa, who holds a UEFA 'A' coaching licence and a masters degree in sports science, has extensive experience in the game, both in Europe and the Middle East.
She scouted for Celtic for several years and coached age-group sides at Benfica between 1997 and 2010. Cheleirense gave her a first taste of coaching a senior male side in the 2005/06 season, and she proved her worth by leading them to the Regional Lisbon League.
She then switched to women's football, taking over the Qatar national women's side between 2010 and 2012 before her most recent role with Iran.