FA and Premier League react to grassroots football funding cuts
The FA has admitted that cuts to football facility maintenance at grassroots level are a cause for concern.
Last Updated: 08/06/14 5:14pm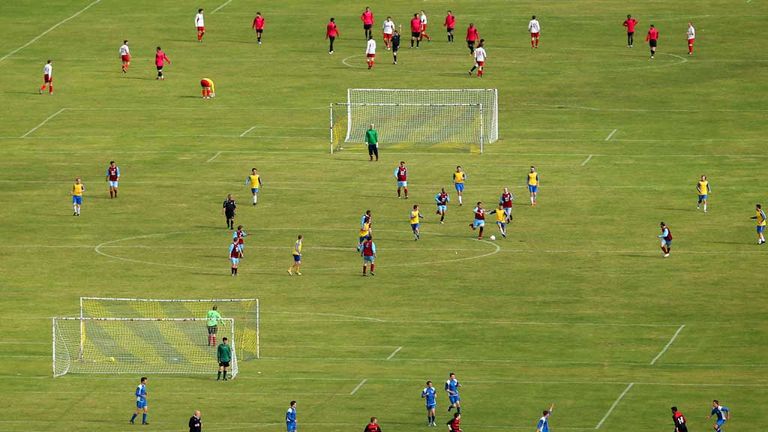 The investigation, which included Freedom of Information requests sent to 417 UK councils, revealed that in 2013 annual investment was over 17 per cent less than in 2007, falling from £5.9m to £4.9m.
In Scotland, the decrease is far more alarming with a 66 per cent reduction, however Northern Ireland are bucking the trend with a 33 per cent increase in overall funding.
In a statement the FA acknowledged the reduction in funding is a significant threat to grassroots football in this country.
"We certainly recognise the overall decrease in football facility funding across local authorities in England, and this is a continuing and growing problem for the grassroots game," the statement read.
"However, our experience also demonstrates that general pitch maintenance remains a challenge in England.
"The FA channels in the region of £1m a week into the grassroots of the game in England through its National Game Strategy.
"This supports our network of county FA's, investment in facilities, coach education, referee recruitment and retention, the development of men's and women's teams, mini soccer and youth football, as well as disability football.
"Through the Premier League & the FA Facilities Fund we invest £30m every year into facilities alone."
The Local Government Association believe that sweeping across-the-board cuts at local level mean football's gatekeepers must commit more money to grassroots football by way of investment.
Cllr Simon Henig, vice-chair of the LGA's Culture, Tourism and Sport Board, said: "The football industry is booming with profits and TV revenues rising by staggering amounts each year.
"In stark contrast, councils have been hit with unprecedented 40 per cent cuts and face challenges to provide essential services such as caring for the elderly, collecting bins and fixing roads.
"The FA and Premier League do run some good local initiatives but it is now time for them to dig further into their deep pockets. If funding was increased and administered by councils, the money could be spent more effectively to increase the number of youngsters playing football."
The Premier League responded to our investigation by insisting that by 2016 they would have committed £178m towards synthetic all-year round playing surfaces across the country over a three-year period.
"Last season we invested in 52 new artificial grass pitches (AGPs) and hundreds of new grass pitches across the country via the new Premier League and FA Facilities Fund," the Premier League said in a statement.
"We plan to invest in 100 new community AGPs in the next two years. This is part of our £56m per season investment in good causes."
Shona Robison, Cabinet Secretary for Commonwealth Games, Sport, Equalities and Pensioners' Rights, insists major sports events coming to Scotland are part of the reason for the fall in investment at grassroots level.
"We work very closely with Sport Scotland our sports agency with our local government to help improve their sport infrastructure," she said.
"With the Commonwealth Games and the Ryder Cup this year there has been unprecedented investment into sport infrastructure, compare that to 10 years ago we are miles ahead of where we were.
"Some of that is elite sport but a lot of that is grassroots, so we will continue to invest into 3G pitches and that will continue to go forward. Yes there is still a lot we need to do but we are in a much better place than we were a few years ago."