World Cup: Alex Oxlade-Chamberlain trains as England start work in Rio de Janeiro
Last Updated: 10/06/14 8:56am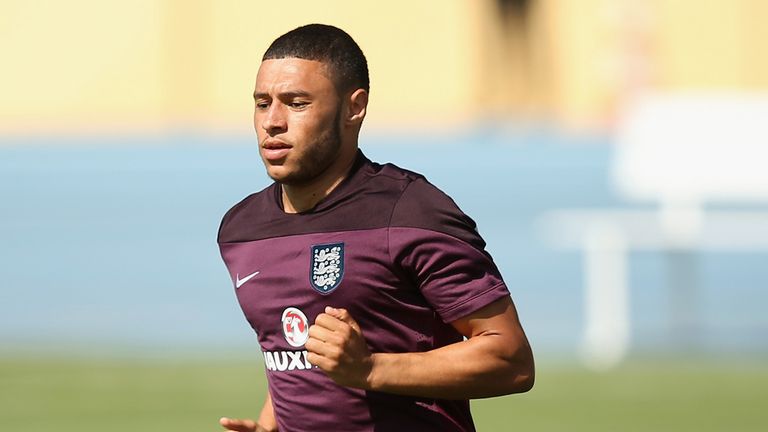 Alex Oxlade-Chamberlain trained as England's World Cup squad were put through their paces in Rio de Janeiro in their first full training session ahead of the opening Group D game against Italy on Saturday evening.
Manager Roy Hodgson has a number of decisions to make regarding his team selection for the match in Manaus, as well as checking out the fitness of Oxlade-Chamberlain and Steven Gerrard.
Oxlade-Chamberlain gave the manager a boost by doing some light training, having suffered a knee injury during last week's friendly in Miami against Ecuador; the Arsenal winger, with his knee in a brace, was closely monitored by England fitness coach Tony Strudwick.
Gerrard trained away from the squad and after some shuttle runs, the England captain - who was substituted at half-time of Saturday's 0-0 draw with Honduras - left the session early as a precaution.
In addition, Hodgson must decide in what position to employ Wayne Rooney and chief football reporter for Sky Sports News, Nick Collins, who was present when the players arrived at the military training camp, says leaving Rooney out is unthinkable.
He said: ""He will start. I don't think there is any question of that. The big decision is whether he will play in his favourite position, in the centre behind Daniel Sturridge, or wide out left where he played against Ecuador last week.
"Out-left he was pretty effective and provided Roy with food for thought."
The Sky reporter also said it was unlikely Ross Barkley would start against Italy, despite calls from England fans for the Everton starlet to play.
Collins went on: "Barkley made a tremendous impression against Ecuador – his first start for England – and helped to set up the second goal for Rickie Lambert.
"At 20 he is an exciting talent but I don't think he will start against Italy but could be an impact substitute – I would not be surprised if he is one of England's three substitutes on Saturday.
"He almost missed the team bus this morning, last man on it by all accounts when they left the hotel but I think Hodgson will go for Danny Welbeck instead.
"Welbeck had a really good game against Honduras on Saturday, came close to scoring, he tracks back well, has never let England down and played well in the Euros (2012).
"Hodgson likes him and three into two won't go: You've got Rooney, Welbeck and Barkley fighting over two places."
This is the second time England have been at this venue, having already trained at the military base on a previous trip to Brazil in 2013.
According to Collins: "It's familiar territory. They were at this truly spectacular setting a year ago when preparing for a game against the host nation at the Maracana.
"It's a great setting. On one side you've got the ocean, on the other side you have the spectacular Sugarloaf Mountain – with temperatures in the mid-to-high 80s."
A strong Italian defence awaits England in Manaus on Saturday, but Hodgson is sure his team will have what it takes to break Cesare Prandelli's men down.
"We didn't score against Honduras but we scored five goals in the games against Peru and Ecuador, so I think it would be very harsh to start casting aspersions," the England manager said.
"Daniel Sturridge is an absolute out-and-out goalscorer and we think Rickie Lambert is too.
"Of course we have got the Rooneys, Welbecks and Gerrards and Lampards, so I don't think we're short of firepower."