World Cup: Roy Hodgson calls for calm as tension builds ahead of England's opener
Last Updated: 10/06/14 6:17pm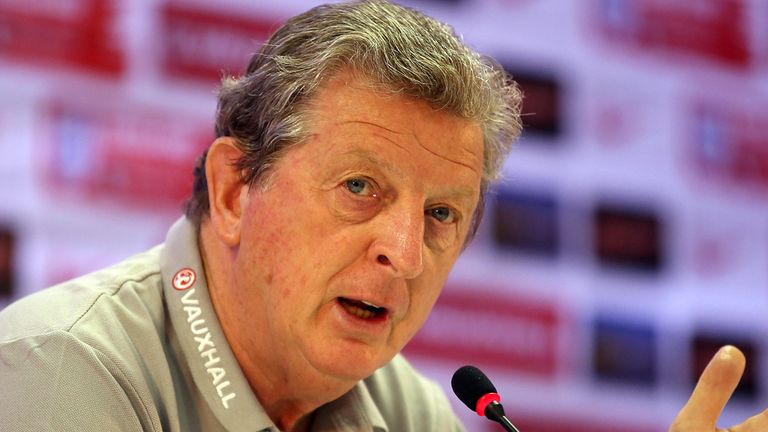 England manager Roy Hodgson has insisted his young stars are 'not world-beaters yet' and called for calm as tension builds ahead of their World Cup opener against Italy.
Hodgson's side are just four days away from their first Group D game in Manaus, with a swell of excitement surrounding the youngsters he has chosen to go in search of a first World Cup triumph since 1966.
England arrived in Brazil on Sunday and the 66-year-old, pleased with their base in Rio de Janeiro, admits feeling a sense of anticipation as he steps up the intensity of training before Saturday's game.
"We've only been here a couple of days. The first day was very quiet because we'd been travelling all day and the first session was not at all intensive because it was mainly a warm-down," Hodgson explained.
"It's today (Tuesday) that we will have a more intensive training session and I think it will ratchet up as the week goes on, and we will see a build-up in tension as the serious moment arrives."
Hodgson named eight under-24 players in his squad and, after impressing both at club and international level over the last few months, the likes of Adam Lallana, Raheem Sterling and Luke Shaw have stirred the hopes of the nation.
"The emergence of youth is very exciting. We have a lot of potential, and we have excitement and belief in them," Hodgson said.
"But I must advise some sort of caution because these players haven't had much chance in an England shirt to show that their potential can be realised.
"Before we build people up too much and say how wonderful these young players are, let's see some very good performances in an England shirt first.
"We believe they can do it but let's calm ourselves down a little bit before we say we've got world beaters in our squad – to be a world beater you've got to go out with your international shirt on and play very well.
"I'm trying not to play down the fact that the future looks bright but, saying that, in this World Cup we are also going to need our experienced players to help these youngsters along."