World Cup 2014: England concern over 'bad' Manaus pitch ahead of Italy clash
Last Updated: 12/06/14 10:58am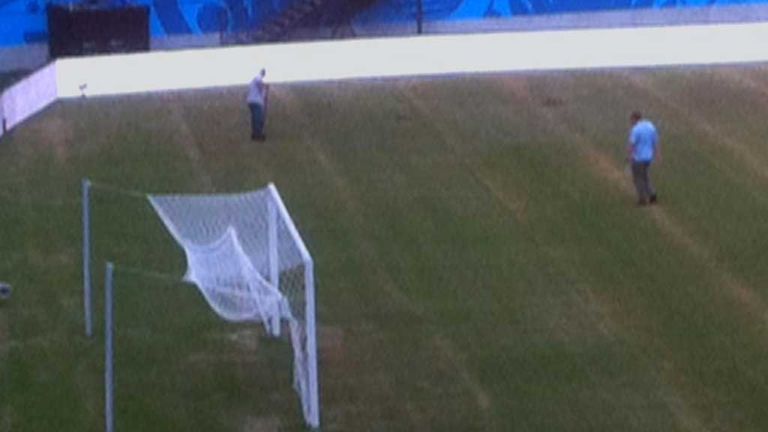 England will send a member of their backroom team to inspect the pitch at the Arena Amazonia, which hosts the clash with Italy on Saturday, after the head groundsman admitted the surface was "in bad shape".
Parts of the surface look noticeably dry and rutted, doing little for either the pitch's aesthetics or the confidence of the teams who will have to play the high-pressure match there.
"Frankly Manaus is in bad shape," said Carlos Botella, the head groundsman of the Royal Verd company which is responsible for looking after the pitches at several World Cup venues.
WORLD CUP WITH SKY
The World Cup is here and Sky Sports News will keep you bang up to date with all the stories and colour from Brazil. You can also follow all the action on skysports.com, our mobile and iPad apps as well as Sky Sports News Radio and our Twitter feeds. Click HERE to find out more.
"We've started to implement an emergency plan to try to save the field and improve it as much as possible, but I don't think it'll be in good condition by the weekend.
"Yesterday we put fertiliser and we'll increase the fertilising process with biostimulants and seeds to try to get the most out of the grass."
Botella blamed access issues to the relatively remote stadium, as well as recent heavy rainfall.
"The maintenance has been complicated in Manaus. There are no roads, all the machinery and materials had to be brought by ship," he said.
"There's no fertiliser, no seeds. Everything has been complicated."
There have also been concerns raised over the readiness of the stadium amid reports of loose power cables and unfinished plastering.
Both sides will train on the pitch on Friday, but England striker Wayne Rooney said his team would not be looking to the state of the pitch as any kind of excuse.
"It's the same for ourselves and Italy so we'll just have to deal with it," said Rooney.
The stadium will also host three other World cup games: Cameroon v Croatia; United States v Portugal and Honduras v Switzerland.