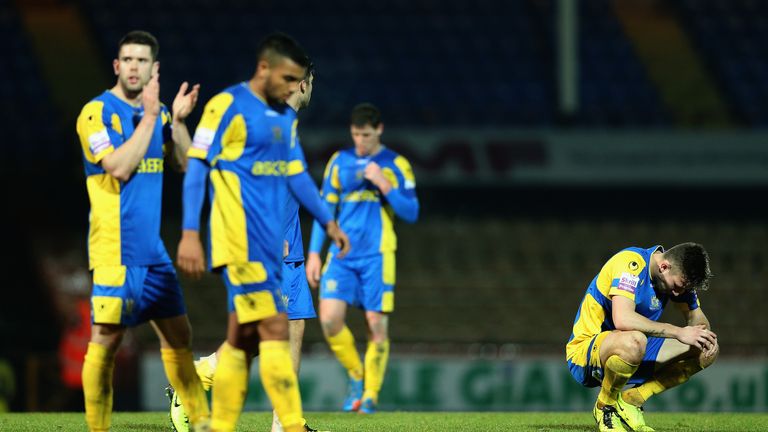 Salisbury City have been relegated from the Football Conference after failing to pay their creditors.
The Wiltshire club missed a Thursday deadline to meet a number of financial demands including a financial bond of £50,000.
Salisbury now have until July 4 to pay off their creditors or face expulsion from the Conference company altogether. As things stand, they have been demoted to Conference South.
In a statement released on Friday, the league said: "Salisbury City have failed to meet the requirement to settle all football creditors in cleared funds by 5pm on Thursday June 21, 2014.
"Furthermore, the club have also failed to provide a financial bond of £50,000 by the same time and date.
"These elements constitute two of four requirements unanimously set by members of the Football Conference board on Friday June 6 which, if fulfilled, would enable the club to retain its membership of the Conference National division.
"If unfulfilled the club was advised at the meeting they would be liable to be expelled from the competition and the company under Article 5.2, or be relegated.
"At a board meeting today the directors considered various issues relating to the club's financial stability and unanimously agreed to invoke the latter part of its previous decision and relegate Salisbury City FC from the Conference Premier to Conference South.
"Furthermore, if a bond of £50,000 (or a bank guarantee) is not deposited, and the football creditors have not been settled in cleared funds, by 5.00pm on Friday July 4, the club will be expelled from the competition and the company.
"The consequence of today's decision means Dartford FC will be reprieved from relegation to Conference South."
Salisbury claimed £75,000 was transferred into the club solicitor's client account to meet the debts on Friday. However, there remains a legal issue in relationship to the ownership of the club.
Moroccan businessman Otail Touzar owns 98 per cent of Salisbury following a deal in May, but he has reportedly not yet invested any money in the club, who have been under a transfer embargo since April and are said to owe around £29,000 in unpaid wages.
Mark Winter, a Whites supporter, purchased the club along with Touzar and he has reportedly put in £75,000 of his own money so far in a bid to save it.
Hereford United were expelled from the Conference altogether earlier this week, with Chester reinstated, and they now look set to play in the Southern Premier next season.