World Cup: Steven Gerrard says England's pace will cause Uruguay 'big problems'
Last Updated: 16/06/14 11:38am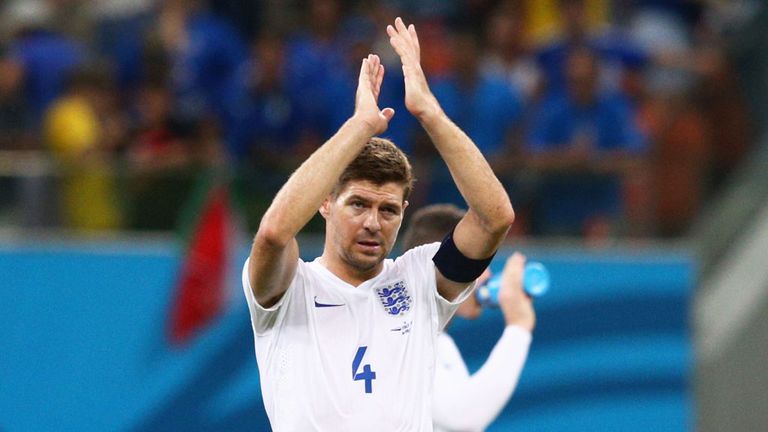 Steven Gerrard believes England's pace will cause Uruguay "big, big problems" in Thursday's crunch World Cup showdown in Sao Paulo.
The England skipper admits he was "shocked" by Costa Rica's 3-1 victory over Uruguay, and takes heart from the way Group D's supposed 'minnows' dismantled their opponents.
And Gerrard is now hoping the likes of Raheem Sterling, Daniel Sturridge and Danny Welbeck will be able to wreak havoc against the South Americans on Thursday.
"I was shocked by the result. I expected Uruguay to beat Costa Rica," Gerrard said.
"They (Uruguay) have really good firepower up front but we saw on Saturday that they are certainly beatable.
"They concede goals and if we attack like we did against Italy we will cause Uruguay big, big problems."
They concede goals and if we attack like we did against Italy we will cause Uruguay big, big problems.
Steven Gerrard
Gerrard's Liverpool team-mate Luis Suarez played no part on Saturday's defeat – he was left on the bench throughout.
Uruguay coach Oscar Tabarez admitted he is not sure if Suarez – who underwent keyhole surgery on his knee last month – will be able to take on England.
Gerrard however is in little doubt that England will have to deal with the Premier League's top scorer, whether he starts or comes off the bench.
"I'm not sure where Suarez is up to injury-wise, I haven't heard from him, but I expect him to play some part because he's been so quiet," Gerrard said.
England must learn lessons from their own defensive shortcomings against Italy if they are to keep Suarez at bay, according to Gerrard.
"The key is to look back on what's happened, see what we got right but also see where we went wrong," he said.
"We conceded two goals and we have to look at them. They created problems for us on our left side on a few occasions and we will have to look at that."
As captain, Gerrard says he will take on the responsibility of lifting the players himself.
"I've got to try to pick these lads up and we go against Uruguay," Gerrard said. "We've got to dust ourselves down as quickly as possible and bounce back. We've got two big games and if we take six points we are going through."
The most eye-catching performance of the night from an England player came from Liverpool youngster Sterling.
The teenager was making just his third start, but he had England and Italy fans on the edge of their seats all night thanks to his quick thinking and his even quicker feet.
"He is fearless. That's the way he plays. That's his character," Gerrard said.
"He doesn't worry about opponents. He just goes out and does the best he can and, for his first start in a major tournament, there were flashes of positivity.
"He's a big player for the future. The manager showed bravery putting the young lads in, giving them a good go, and that's the future of this England team - all the young talent in the dressing room."