World Cup: Wayne Rooney hits back at claims he trained with the England 'reserves'
Last Updated: 17/06/14 6:56pm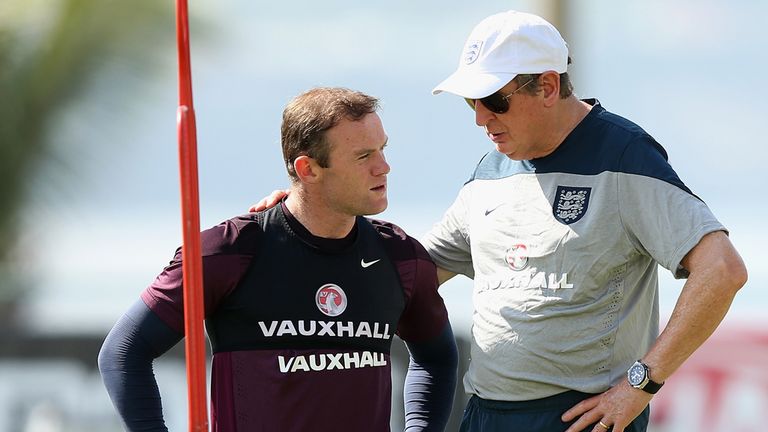 Wayne Rooney has rubbished claims he trained with England's back-up players in a bid to save his World Cup.
Rooney was the only outfield starter from Saturday's 2-1 defeat by Italy to take part in a full training session on Monday, joining all the substitutes and non-playing members of Roy Hodgson's squad.
The 28-year-old did a light warm down away from the other nine outfield players who started the Group D opener and stayed behind for extra shooting practice.
However Rooney, who has yet to score in a World Cup and missed a great chance in Manaus, hit back at suggestions it was down to desperation to prove himself to Hodgson ahead of Thursday's match against Uruguay in Sao Paulo.
"Sometimes wonder what the press are getting at," Rooney posted on his Facebook page.
"I said from the start I want to do everything I can to make sure I'm ready for these World Cup games and as part of that I was doing extra training a week before the squad joined up.
"That's exactly what I did yesterday, my own extra training because that's what I wanted to do."
Former Manchester United first-team coach Rene Meulensteen has backed Rooney to prove his World Cup critics wrong against Uruguay.
The Dutchman worked with Rooney at Old Trafford between 2008 and 2013 and believes the forward should switch to the middle and play behind Daniel Sturridge for England.
PICK ENGLAND TEAM
Here is your chance to be Roy Hodgson and choose your starting XI to face Uruguay. Click HERE to pick your England side.
When asked if he thought Rooney would start the crucial Group D clash against the South Americans, Meulensteen told Sky Sports News: "Yes, without a doubt.
"It's a bit strange really that there's such a sort of national debate about Wayne in itself. I think we all know what a player he can be and I really agree with what has been previously said that we really need to be positive, we need not to be looking at certain things where it can go wrong for England.
"We need to look for where it can go right and, in my opinion, he should start and he should start in his best possible position, which is behind Daniel Sturridge."
Meulensteen was also encouraged by reports that England manager Roy Hodgson was ready to change formation and move Rooney off the left flank and into the middle for the meeting of Los Charruas in Sao Paulo.
He added: "There's lots of positives to take from the Italy game. I think we have got a different sort of threat going forward. But if you know Wayne and the type of player he is, Wayne likes to be involved right from the word go, the more he gets involved the more touches he gets on the ball, the better rhythm he can build for himself, the more chances (he will get).
"You will see him hitting key passes, getting in and around the box, and creating more goalscoring chances for himself. Wayne is that sort of player who understands really, really well that it's a team effort and as long as he can contribute, from whatever position it is, he never has a problem."
Gary Neville has also given his backing to his former Old Trafford team-mate.
"My opinion is that Wayne Rooney, after seeing him every day in training, is a very important player," said Neville, now an England coach.
"He is our top goalscorer under (manager) Roy (Hodgson), he is our main assist man and probably but for a yard he would have been man of the match if he had scored that goal (against Italy).
"We came off the pitch the other night and had our coaching debrief with Roy, Ray (Lewington), Dave (Watson) and myself and there was no other suggestion that Wayne Rooney had played pretty well for us in that game, that he had done everything we asked for."
Paul Scholes, a former team-mate of Rooney and Neville, sparked controversy when he suggested the England striker may be past his best.
Neville refused to get drawn into a row with the former United and England midfielder.
"Paul is a great friend of mine but I am coaching Wayne Rooney, I am of the opinion that when you get to a player like Wayne Rooney, you have to cope with everything that is thrown your way," Sky Sports pundit Neville added.
"It wasn't just Paul Scholes talking about Wayne Rooney. The fact of the matter is that it is one man's opinion, it's Paul's opinion and everyone else will have their opinion."