FIFPro want FIFA to review stance on players suspected of suffering concussion
Last Updated: 20/06/14 6:06pm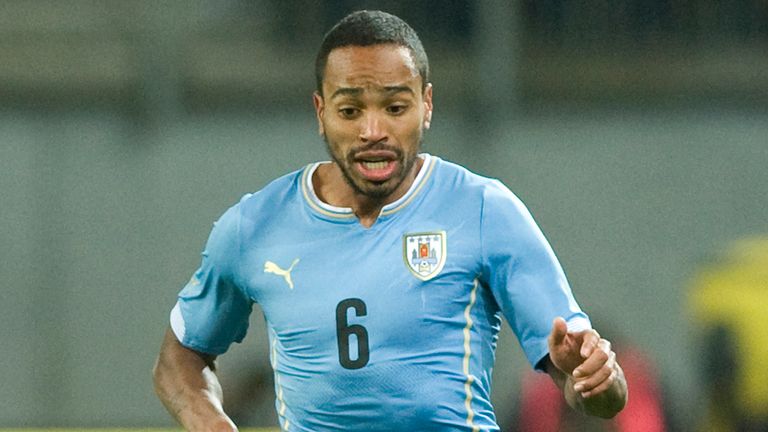 Players' union FIFPro is urging FIFA to review its policy on players suspected of suffering concussion following a head injury sustained by Alvaro Perreira in Uruguay's 2-1 World Cup win over England.
Pereira lay motionless on the ground after appearing to be knocked out following a collision with Raheem Sterling's knee in the 61st minute of the Group D encounter in Sao Paulo.
Uruguay's team doctor Alberto Pan signalled to the bench that Perreira should be substituted following his initial assessment but the 28-year-old was allowed to continue following an impassioned protest.
"Football is awash with incidents in which players suffer potentially concussive blows to the head and stay on the pitch," the players' union said in a statement. "In Pereira's case, he demanded to play on, overruling advice from Uruguay's team physician for him to be immediately substituted.
"FIFPro understands that in certain moments, faced by the pressures of such an important international stage, many players would react in this way.
"There are times, however, when the players also require greater protection against the prospect of making any rash decisions. He must be subjected to further evaluation and follow-up procedures that help determine if and when he can return to training.
"The World Cup must set the standard for player health and safety to educate the international football community," the statement continued.
"Medical evidence shows that a person faces the risk of very serious brain injury, or worse, if he or she suffers a severe head trauma from a concussive blow.
"Furthermore, FIFPro states any sideline concussion assessment must not be conducted solely by a national team physician.
"In order to ensure real independence, FIFPro's involvement, as the international authority representing the interests of the players, would ensure they are insulated at all times."
Pereira seemed to be having trouble maintaining his balance in the immediate aftermath of the incident and later tried to play down its seriousness.
"I said 'sorry' a thousand times to the doctor because I was dizzy," Pereira said. "It was that moment your adrenaline flowing in your body, maybe without thinking ... what I really wanted to do was to help get the result.
 "What really matters is that everything is OK. Nothing happened. It was just a scare."