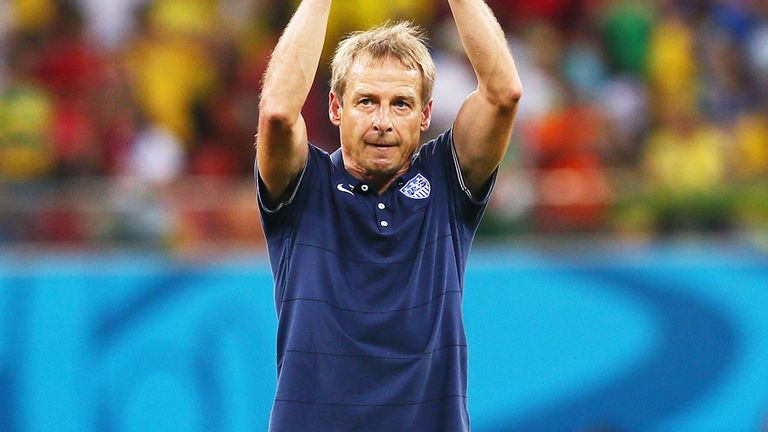 USA coach Jurgen Klinsmann heaped praise on his players following the 2-2 draw with Portugal in Manaus.
Kilinsmann's side were denied victory, and a place in the last 16 of the competition, when substitute Silvestre Varela scored an injury-time equaliser for Portugal.
Nani opened the scoring for Portugal during the early exchanges at the Arena Amazonia but goals from Jermaine Jones and USA captain Clint Dempsey turned the game around.
USA now just require a draw with Germany in their final Group G fixture for both teams to progress to the knockout stages of the World Cup.
"When you concede a goal in the last second then it's unlucky," Kilinsmann said. "Our boys put in an extraordinary performance.
"The journey's now a little bit longer for us, but we want to beat Germany to confirm our place in the round of 16.
"I'm a little frustrated with this draw, but we're going to work hard to make sure this doesn't happen again."
USA goalkeeper Tim Howard pulled off a series of fine saves to keep Portugal at bay during their brighter periods, but despite conceding the late goal the Everton man remains upbeat.
"We're a little disappointed, but still optimistic," Howard said. "We thought we'd put one foot in the round of 16, but we are where we'd aimed to be before the tournament: going into the final game with a good chance of progressing.
"The coaching staff put in place a great game plan. Portugal didn't cause us too many problems and we could have avoided both their goals.
"We moved the ball around better and had the clearer chances. We're not going to let the last-gasp goal get us down."