Roy Hodgson says England's young players need more chances in Premier League
Last Updated: 23/06/14 2:31pm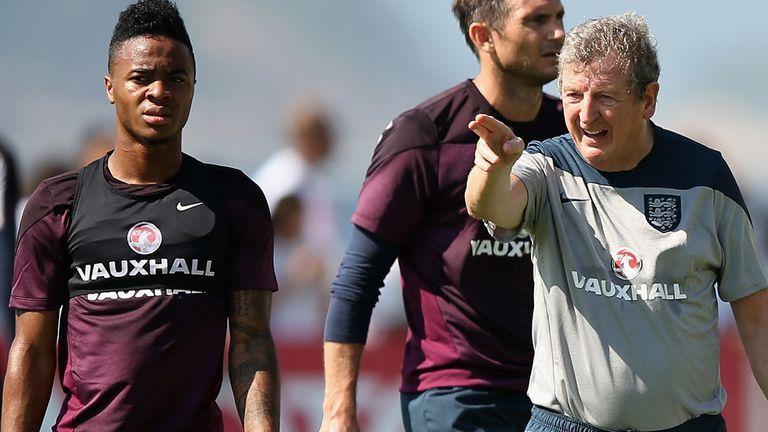 England's brightest young stars are being hindered by expensive foreign imports at the Premier League's top clubs, according to Roy Hodgson.
England crashed out of the World Cup after defeats to Italy and Uruguay condemned them to their quickest exit in the history of the competition.
FA chairman Greg Dyke recently published a report which criticised the increasing number of foreign imports in the English game and Hodgson says the issue must be addressed.
"There's always going to be a problem. It's ridiculous to try to suggest there isn't," the England manager said.
"The players we're looking at who could be good enough to play for England at 18, 19, 20 years of age are quite often playing in the top five or six clubs.
"That's where the biggest stars are, and where the biggest money is and where the biggest chance of a blockage is in getting into the team. So let's come to terms with that."
There's always going to be a problem. It's ridiculous to try to suggest there isn't.
Roy Hodgson
Raheem Sterling, Ross Barkley and Luke Shaw flourished this season as they secured pivotal roles for their respective teams but many other promising young English players failed to do the same.
Andros Townsend, who scored a stunning goal on his England debut against Montenegro last October, struggled to get regular playing time at Tottenham.
Phil Jones arrived at the tournament out of sorts after a stop-start season in which he struggled to get regular playing time at centre back for Manchester United.
Jack Rodwell's once-promising career has stalled badly at Manchester City following his move from Everton in 2012.
Dyke has advocated the creation of a new tier within English football to accommodate Premier League B teams but Hodgson is unsure if this would solve the problem.
"We need to keep looking to see if there is a system that would help these 19-year-olds who are not playing in (Manchester) United, Arsenal, Chelsea, Liverpool, Tottenham, and Manchester City first teams," he said.
"Is there a way of getting them into football on a regular basis to play against men that would improve them? It's not as easy as all that.
"You'd run into arguments that would the best thing for Raheem Sterling not playing for Liverpool to go and play in the English third division or the Conference?
"Would that be the best way forward? It's complicated. I'm glad we're looking into it."
Hodgson, who will lead England's charge for Euro 2016, believes it is important for England to have more access to younger players so they can be more prepared for the rigours of international football.
"We have to make certain that we get as much access as we can to the players in the academies, that we induct them fully into what we're expecting," he said.
"We have to make certain that when the players come into our environment we induct them fully into what we are expecting, what we think being an England player means, not just in terms of behaviour and culture, but in terms of how important it is for you to play in a certain way, making certain we get our midfielders turning on the ball, receiving balls on the back foot, being positive.
"We can do some work on that. We don't just have to rely on clubs giving their 19-year-old a game in the first team or not. We can do that."