World Cup: FIFA clear Mexico after allegations of homophobic chants from their fans
Last Updated: 23/06/14 6:06pm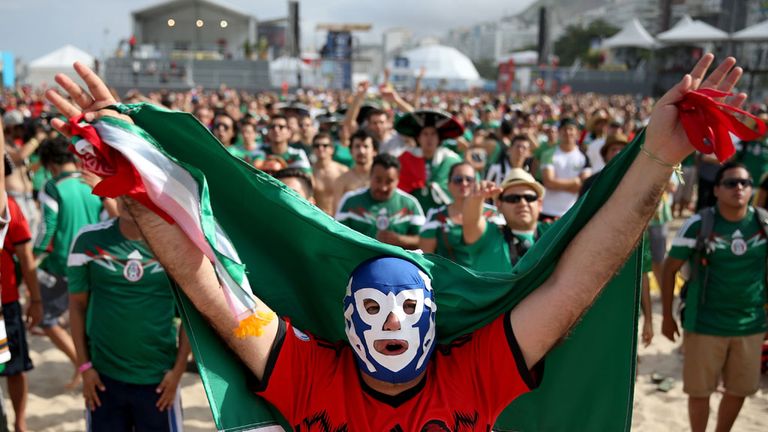 FIFA have cleared Mexico of improper conduct by their fans following complaints their supporters used homophobic chants.
The fans' shouts of 'puto' when the opposing keeper takes a goal-kick is commonplace in Mexican football, but anti-discrimination group FARE reported it to FIFA on the basis that it was homophobic language.
The Mexican Federation of Association Football was charged with improper conduct, but has now been cleared.
A FIFA spokeswoman said: "Disciplinary proceedings were opened against Mexico for improper conduct of spectators during the match, Mexico v Cameroon.
"The FIFA disciplinary committee has decided that the incident in question is not considered insulting in this specific contest. All charges against the Mexican FA have been dismissed."
FARE also reported Brazilian fans for similar chants and it now appears there will be no action against the host nation either.
FIFA is also analysing the case of a man who invaded the pitch during Germany's match with Ghana with neo-Nazi messages written on his body.
The messages included "HH" signifying Heil Hitler plus "SS" in reference to the Nazi paramilitary force.
FARE has compiled a report on the pitch invasion and will also mention a small number of fans wearing black-face make-up at the match in Fortaleza.
A statement from FARE said FIFA's decision contradicted expert advice.
A FARE spokesperson said: "If the decision is that the use of the word 'puto' is not homophobic then this is disappointing and contradicts the expert advice of the Mexican government's own anti-discrimination body CONAPRED and numerous other experts.
"Independent academics that we have taken the time to consult also confirm what many football fans in South America have known for a long time.
"A genuine zero tolerance approach to all forms of discrimination will mean that FIFA will need to take some difficult decisions. In the longer term it isthe only way to set out clear leadership and deal with a real issue in football."