Phil Thompson: Luis Suarez 'bite' has 'shamed and embarrassed' Liverpool
Last Updated: 26/06/14 3:41pm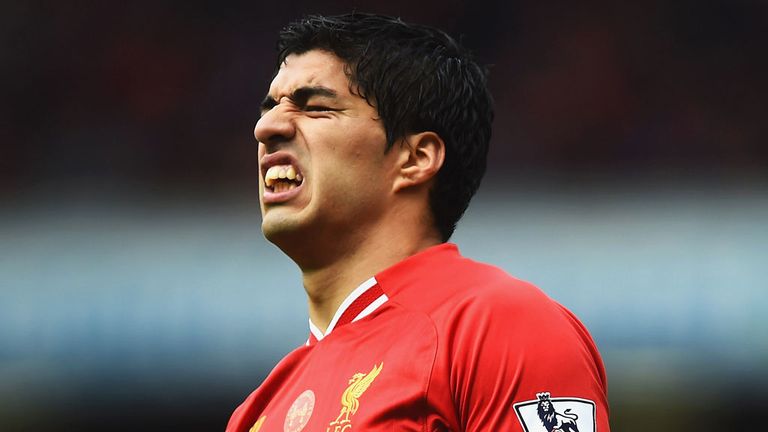 Phil Thompson has condemned Luis Suarez for bringing fresh "shame" on Liverpool and believes selling him would now be the club's best option.
Suarez and Uruguay have until 9pm on Wednesday evening to respond to FIFA after the striker was accused of biting Italy defender Giorgio Chiellini during Tuesday's World Cup group fixture.
The Liverpool forward played down the incident following his side's 1-0 win - a victory that saw them progress to the last 16 - but Sky Sports pundit Thompson, a former Reds captain and assistant manager, believes the alleged incident, will cut deep with Anfield officials who supported him following previous transgressions.
Suarez was banned for 10 matches in 2013 for biting Chelsea's Branislav Ivanovic and in 2010, while playing for Ajax, he was given a seven-game suspension for biting PSV Eindhoven's Ottman Bakkal.
"I was devastated when I saw the pictures, I was thinking: 'Please don't let this be happening again'," Thompson told Sky Sports News. 
"You start thinking of the support the guy has had - from Brendan Rodgers, from (owner) John Henry, from the fans; most of them have stuck by him through thick and thin and it is like a smack in the face to everybody.
"This is not the British media, the world's media is talking about this. He is playing for my football club and he's brought embarrassment, he's brought shame on the football club again.
"He's the Footballer of the Year, the Players' Player of the Year, the Football Writers' Player of the Year. We thought he'd sorted himself out but this is a massive shock."
Suarez has reportedly set his sights on a summer move to Spain - La Liga rivals Real Madrid and Barcelona both apparent suitors - just six months after signing a new long-term deal at Anfield.
And though the 27-year-old scored 31 goals as Liverpool ran Manchester City close to the Premier League title, Thompson believes his latest bite storm could prompt club officials to cash in.
"He wanted a move last summer but the club stood strong and assured him we could achieve success together," Thompson added.
"He was a fantastic player for all the right reasons, which is why I feel he's let us down. Will Barcelona and Real Madrid still want him with all this baggage? I think they'll still covet him and I think that would be a good get-out for Liverpool.
"I think this (transfer specualation) was going on in the background anyway so it might make life easier for (managing director) Ian Ayre, Brendan Rodgers and John Henry."
FIFA has refused to speculate about possible punishments for Suarez but regardless of the ruling body's conclusion, Thompson has urged Suarez to seek professional support.
"He needs help," Thompson said.
"We accept as part of the game, as awful as it sounds, elbows, bad tackles, but spitting and biting is not right. No matter what comes of this, someone, wherever he plays his football, needs to get to the bottom of his actions."