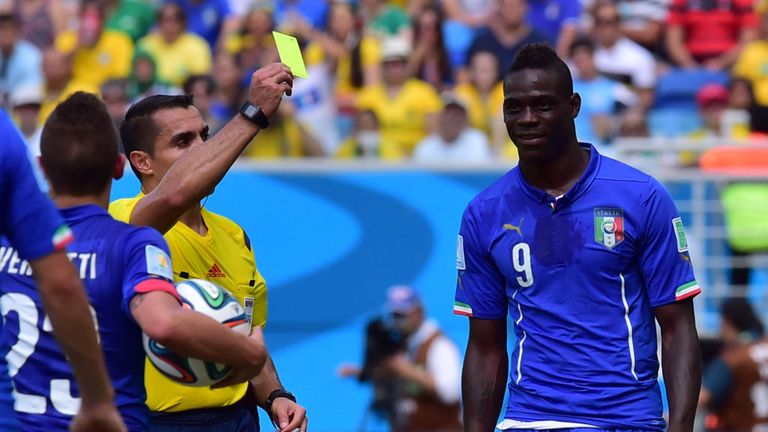 Italy striker Mario Balotelli has hit back at his critics in the wake of his side's World Cup exit in Brazil.
The former Manchester City star has been a target of criticism over his performances in Brazil.
Balotelli scored the match-winner against England in Italy's opening match, but registered only one shot on target in their following two games against Costa Rica and Uruguay.
He was substituted at half-time in Tuesday's 1-0 defeat to Uruguay after picking up his second yellow card of the tournament which would have ruled him out of their next match had they progressed to the last 16.
Italy's press pointed the finger of blame at Balotelli with the Gazetta dello Sport labelling him a "big flop" and Azzurri fans vented their dissatisfaction via social media.
The AC Milan striker, who has previously been the target of racial abuse in Italy, responded via his Instagram account next to a video of someone saying, "Mario, you're really not Italian. Go away."
"I am Mario Balotelli, I'm 23 years old and I did not choose to be Italian. I really wanted it because I was born in Italy and I have always lived in Italy," he wrote.
"I was hoping for a lot from this World Cup and I am sad, angry and disappointed with myself.
"Yes, maybe I could have scored a goal against Costa Rica, you're right, but then what? What is the problem after that?
"Maybe that's what you all wanted to say? Don't blame it all on me this time because Mario Balotelli has given everything for the national team and has done nothing wrong on a personal level.
"So go and look for another excuse because Mario Balotelli has his conscience in place and is ready to move forward stronger than before, with his head high.
"He is proud to have given everything for his country. Or maybe, as you say, I am not Italian.
"The Africans wouldn't have blamed one of their brothers. Never. In this, we black, as you call us, we are light years ahead of you.
"Disgrace is not one that misses a goal or runs less or more. Disgraceful are these things."
Balotelli was born in Sicily to Ghanaian immigrants and brought up by an Italian foster family.