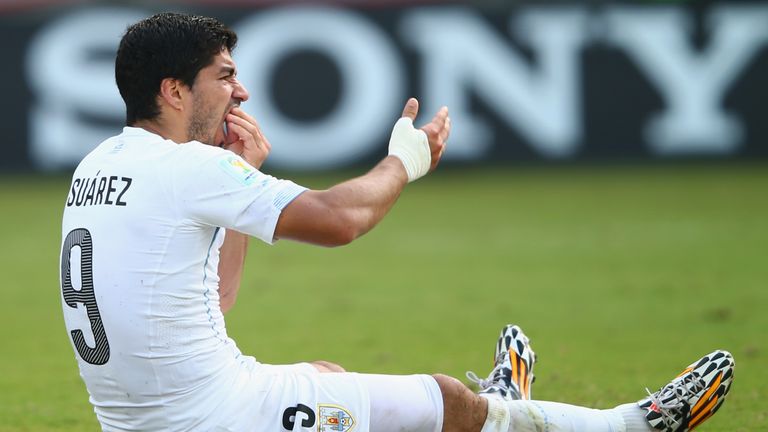 FIFA president Sepp Blatter has refused to comment on the severity of the sanctions handed to Luis Suarez for biting an opponent during Uruguay's World Cup game with Italy.
The Liverpool forward was banned for nine international matches and suspended from all football activity for four months after he bit Italy defender Giorgio Chiellini during the World Cup Group D clash.
The punishment handed out to Suarez, which also included a £66,000 fine, was decided upon by a panel of judges independent from world football's organising body.
And Blatter refused to be drawn on their decision, although he did say it was right that Suarez was punished for his behaviour.
"We are fighting for fair play on the field of play," said Blatter. "Also off the field of play, but mainly on it.
"This is not fair what he has done, it is definitely not fair.
"The decision has been taken by a panel of seven judges and it is not up to me to make a comment on that.
"They have obviously taken into consideration the incidents with this player, who has already been suspended from football from similar activity.
"But I cannot say it is too much or whatever, this is an independent organisation from FIFA who have taken this decision."
Suarez, 27, is expected to appeal his punishment, while Uruguay coach Oscar Tabarez has accused FIFA of making the player a "scapegoat" and resigned from his role within football's governing body in protest over the striker's punishment.
However, general secretary Jerome Valcke has defended the sanctions - and urged Suarez to seek treatment.
Speaking at FIFA's daily media briefing in Rio de Janeiro, Valcke said: "A message to Luis Suarez? I think he should find a way to stop doing it. I think he shoud go through treatment because it's definitely wrong.
"It's not the first time. If it's the first time, it's an incident. If it's more than one time it's not just an incident and that's why the sanction has to be exemplary."