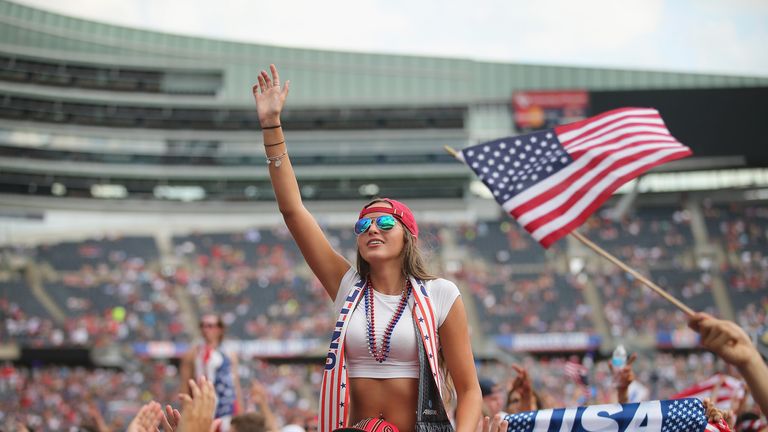 The USA could bid to host the 2026 World Cup, according to FIFA's leaders.
The USA team's fine run in Brazil captured the imagination of the American public, with viewing figures smashing previous records and tens of thousands watched on big screens in public areas.
Jurgen Klinsmann's men departed after a thrilling extra-time defeat by Belgium in the first knock-out round.
US president Barack Obama and Hollywood megastar Tom Hanks were among those watching the Belgium match and tweeting their support.
FIFA secretary general Jerome Valcke told Brazil newspaper Globo that the surge in popularity could well result in a bid to host the event in 2026.
"What we see in the United States is staggering. The audience is unprecedented, more than the NBA," he said.
"The country has the largest level of youth soccer in the world, 20 million young people playing.
"There is a commitment from FIFA to work with US Soccer and I think after 2022, they have an interest in hosting the 2026 World Cup."
FIFA president Sepp Blatter has been equally impressed by the American reaction.
He said: "It's fantastic, the level of interest in the USA is very high. This World Cup is really getting under people's skin and the quality of the football is incredible."
US Soccer president and FIFA executive committee member Sunil Gulati has previously said the United States could bid for 2026 but only if bidding rules change - it lost out to Qatar for the 2022 tournament.
The USA previously hosted the World Cup in 1994.
United States skipper Clint Dempsey, the former Fulham and Tottenham player who now plays for the Seattle Sounders, said the game is growing quickly in the US.
Dempsey said: "There is a stat about the average age watching the World Cup being 38. That shows that people who have played the game, have grown with the game are passing it down to their kids. That is going to help us, it is great to see that the game is on the rise."
Everton goalkeeper Tim Howard was the American hero, making a World Cup record 16 saves during the match, and he said the fact the United States had qualified from a group also made up of Germany, Portugal and Ghana should be recognised.
He said: "We dreamed and we fell short of our dream. But I think to get out of the 'group of death' and then come up against the Belgian team, it's a tough assignment.
"We were right there, you know? We nearly had it, so hats off to the way we played. We are proud of ourselves and this is a young group, so we'll be back.
"We are hungry and we've tasted what it feels like to play against the best players in the world, the best players around Europe. So hopefully we will be back for more."