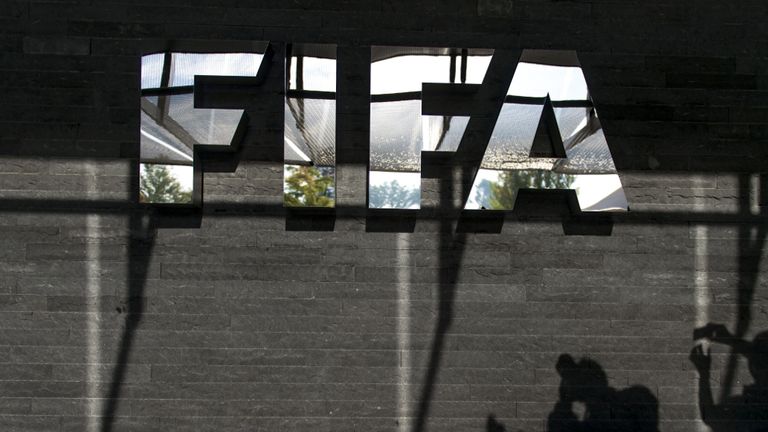 FIFA has been criticised by its own anti-discrimination chief for failing to take action against homophobic chanting and neo-Nazi banners at World Cup matches.
The head of FIFA's anti-discrimination task force, Jeffrey Webb, said there was "an obvious disconnect" between what he viewed as racism and discrimination and the view of the disciplinary committee.
Mexico were cleared of fans' misconduct despite homophobic chanting because the chants were not directed at a specific player.
And Croatia and Russia avoided punishment for their supporters displaying neo-Nazi banners because the disciplinary committee could not identify the specific individuals responsible.
Webb recommended in March that FIFA appoint trained anti-discrimination officers for the World Cup. But he says the administration was too concerned with delays in the preparations for the tournament to take the necessary action.
He said: "It is obvious there is a disconnect between what we in the task force deem as racism and discrimination and what the disciplinary committee deems as racism and discrimination.
"There is no reason why one year on from the task force being set up why we don't have anti-discrimination officers here.
"I don't believe for one minute that there is anyone within FIFA who doesn't respect the fact that fighting racism and discrimination is of paramount importance, but there was so much that had to be done leading up to the World Cup, this could not be implemented."
Webb confirmed that the task force had not met since September because the FIFA administration had been unable to organise another meeting.
Webb picked out Russia as a country that needs particular attention over racism.
He said: "It is much more of a problem in Russia. Russia itself needs a special task force, just for Russia and from an educational standpoint internally.
"I think Mr Blatter has spoken to the Russians about this at his level, but we have not become engaged on this yet, but we will do, definitely."
FIFA's disciplinary committee chairman Claudio Sulser defended the decision not to take action against Mexico, Croatia and Russia saying the specific offences were not covered by the disciplinary code.