Transfer news: Sunderland striker Nacho Scocco wanted by Newell's Old Boys
Last Updated: 05/07/14 2:31pm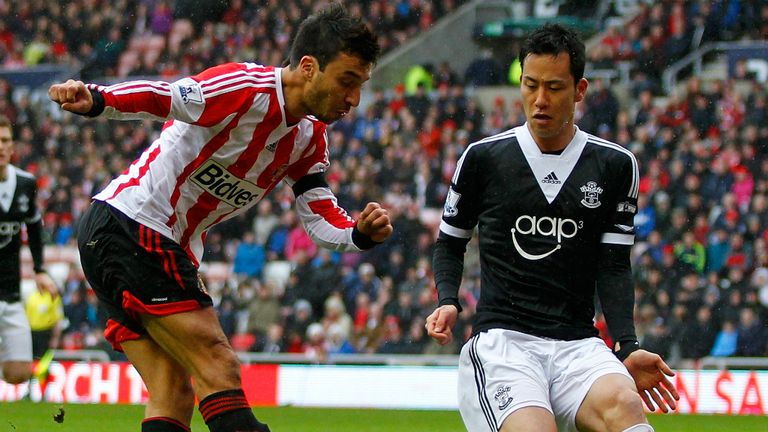 Newell's Old Boys vice-president Jorge Ricobelli admits the club would like to bring Nacho Scocco back to Argentina from Sunderland.
The 29-year-old started his career with Newell's and, despite the forward returning to the Stadium of Light for pre-season training, Ricobelli insists Old Boys will continue their efforts to sign the one-cap Argentina international.
Scocco made the switch to Sunderland from Brazilian side Internacional during the January transfer window, but made just six appearances for the Premier League club and failed to score.
During a three-year spell at Newell's, Scocco netted 16 goals in 76 appearances and a season-long loan from Al Ain saw the attacker score 24 times in just 33 matches.
The expectation is real, but it is a difficult situation. If we manage to bring Nacho back, it will be a totally extraordinary situation.
Jorge Ricobelli
The Sunderland Echo quoted Ricobelli as saying: "It is our wish to sign Scocco. Nacho has to report back for training in Sunderland.
"We have made some efforts, but he now needs to return to the club [Sunderland] so we can continue with talks and we will listen to whether Sunderland want to let Scocco leave.
"We have no problem looking at either a loan or purchase, as long as it is within the means of our club."
Scocco has two years remaining on his contract with Sunderland but Ricobelli is determined to bring the player back to his boyhood club and claims it would be a major boost for Argentinian football.
"The idea is to make the effort and analyse all the possibilities," he added.
"The expectation is real, but it is a difficult situation. If we manage to bring Nacho back, it will be a totally extraordinary situation."