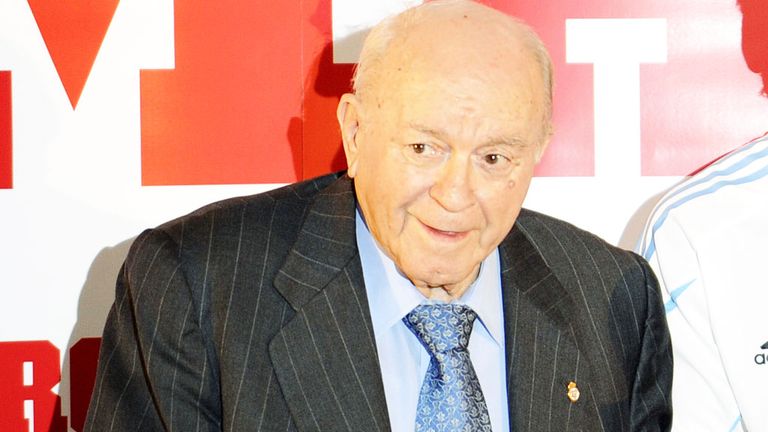 Football legend Alfredo Di Stefano remains in a stable condition in hospital following his heart attack on Saturday.
The 88-year-old former Real Madrid forward, who is considered one of the greatest players in the history of the game, is being kept in an induced coma in the coronary unit at the General Universitario Gregorio Maranon Hospital.
Real Madrid published the latest medical report on the club's official website on Sunday, after club president Florentino Perez had visited Di Stefano at the hospital.
The report read: "The patient, Alfredo Di Stefano, 88 years old, admitted to the coronary care unit, remains in the Cardiology Department at the Gregorio Maranon Hospital after suffering a cardiac arrest.
"The patient remains clinically and haemodynamically stable, but his condition remains serious."
According to reports in Spain, Di Stefano was on a street close to the Bernabeu when he had the heart attack - a day after his 88th birthday. The hospital said the emergency services were able to stabilise him.
Di Stefano was central to Real Madrid's domination of European football in the 1950s, helping them win the European Cup for five straight seasons from 1956 to 1960.
The Argentina-born forward played for the club from 1953 to 1964, winning eight Primera Division titles.
He is Madrid's second-highest scorer in history, behind Raul, with 307 goals in all competitions.
Di Stefano also had two short spells as coach of the club and is their honorary president.
Internationally, he played mainly for Spain but also represented Argentina and Colombia.