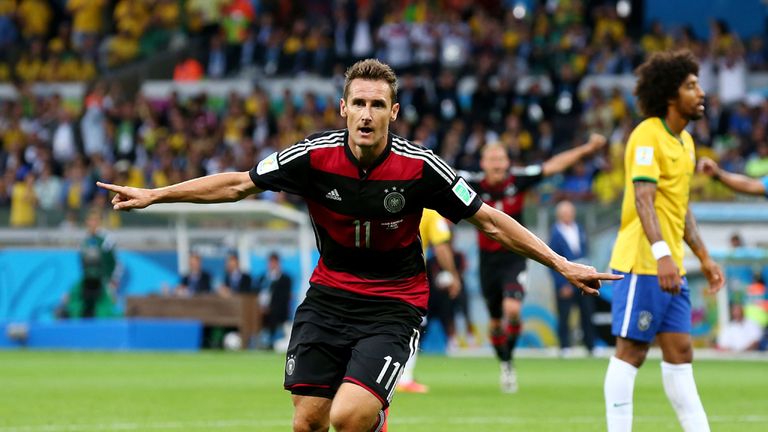 Record-breaker Miroslav Klose said Germany will be on "full power" to win the World Cup after their astonishing 7-1 demolition of hosts Brazil in the semi-final.
The Germany striker became the all-time leading goalscorer in World Cup finals – his 16th - when he scored the second of the night.
The Germans ran riot in the first half, finishing it 5-0 up with four goals coming in seven crazy minutes.
Toni Kroos (two), Andrea Schurrle (two), Thomas Muller and Sami Khedira scored the other goals as they inflicted the heaviest World Cup defeat Brazil has ever experienced.
"You could see in training that we harmonise greatly," said 36-year-old Klose. "We are one unit and you can see that in the pitch. It was so important that our set-pieces work.
"Toni brings the ball exactly there where it belongs. I was hit during my goal so there was no chance to do a (celebration) flip."
Muller admits they were surprised by the margin of victory, but says Brazil's wide-open approach made their night considerably easier that it should have been.
"You couldn't expect that at all but you can see how different games can develop," he said.
"The spaces were bigger today than against defence-minded teams. We benefited from that overwhelmingly - at one point you have broken the opponent.
Now we have to keep pushing, give full power and get the cup.
Miroslav Klose
"Now we have to keep pushing, give full power and get the cup."
Germany coach Joachim Low paid tribute to the veteran striker: "It is something really great for Miroslav because if you have scored the most goals in the history of the World Cup it is something extraordinary. 
"At his age, he is still playing at a very high level and is dangerous when it comes to scoring goals."
Klose is yet to win a World Cup, but after adding semi-final heartache in 2006 and 2010 to defeat in the 2002 final, his time may have come when Germany meet Argentina or the Netherlands in Sunday's final in Rio de Janeiro.
Kroos, named man of the match, said the Germany team will not go overboard in their celebrations and are still mindful that they have an even bigger challenge in store on Sunday.
Kroos said: "We are here to become world champions but no one becomes world champions in the semi-final and there is still and extremely difficult step - this was the feeling in a dressing room.
"Sure, when do you win a World Cup semi-final 7-1...but we still have one more match to go.
"We have to deliver another absolutely top performance otherwise we will lose the final - and I am convinced we will win."
Wolfgang Niersbach, president of the German Football Association, hailed a momentous occasion.
"This is an historic day for German football," he said.
"I don't know what to say. Sensational, like a fairytale - they are all too weak expressions. That was football from another galaxy.
"I am so happy for the coach (Joachim Low) and the team. Now we want to do the next step.
"We can't go crazy now even if I would like to. Now we have to get the fourth star (title)."