World Cup: Argentina coach Alejandro Sabella savours semi-final success
Last Updated: 10/07/14 7:05am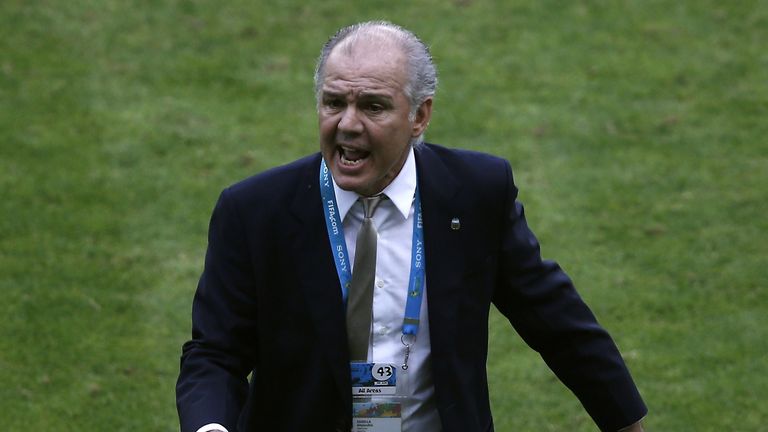 Alejandro Sabella paid tribute to his Argentina side following their World Cup semi-final victory over Netherlands.
The game in Sao Paulo finished goalless but Argentina held their nerve to win the shoot-out 4-2 and book a spot in the final against Germany.
Head coach Sabella admitted after the match that it had been tight and difficult, but declared that Argentina could now go on to lift the trophy.
"It's a great joy. It was a very difficult, very close match," he said
"I'm happy. We're in the final. We'll see what we can do with one day less recovery time (compared to Germany) and after penalties.
It's a great joy. It was a very difficult, very close match.
Alejandro Sabella
"But we'll give everything: humility, hard work, 100 per cent. We'll see if that's enough for us to win."
Goalkeeper Sergio Romero was the hero for Argentina as he saved spot-kicks from Ron Vlaar and Wesley Sneijder, and was happy to savour the moment ton celebrate.
"Enjoy the moment, we will enjoy it and tomorrow we will start working for the final," he said in a televised interview.
"I feel immense happiness, I'm really happy with everything. (Penalties) are a question of luck, that is the reality. I had confidence in myself and, fortunately, everything turned out well.
"Hope has been intact since day one."
Substitute Sergio Aguero converted a penalty in the shoot-out.
"It means so many things, a lot of people didn't think that Argentina would be in the final, but we know what a good team we have," he said.