Transfer News: Juventus midfielder Arturo Vidal cools speculation over his future
By Nadia Carminati
Last Updated: 18/07/14 5:03pm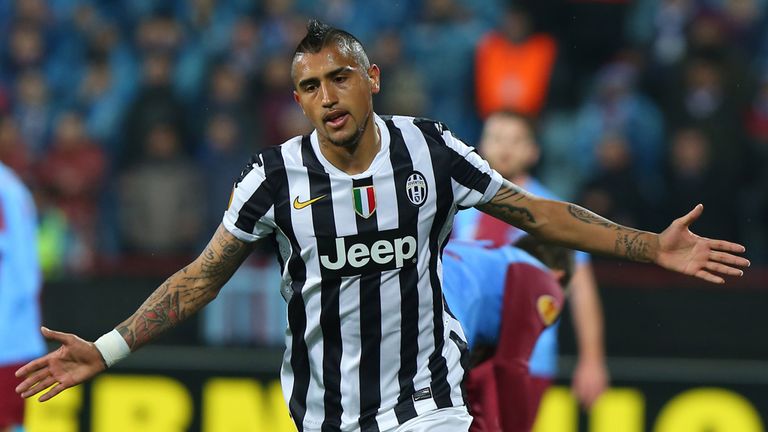 Juventus and Chile midfielder Arturo Vidal has cooled speculation over his future by suggesting he could remain in Turin his entire career.
The 27-year-old impressed at the World Cup as Chile made the last-16, causing several other top European clubs including Manchester United and Real Madrid to register their interest with his agent.
Vidal, who has three years left on his Juventus contract, admits he is aware of the hype surrounding his name but revealed a sense of loyalty to the Serie A champions that could see him remain in Italy for the foreseeable future.
"It's difficult to speak of other teams when you are already at a top club," Vidal told Chilean media.
"I have won the Serie A title three times and I respect my team-mates. I don't feel I have completed a cycle at Juventus. Perhaps I will remain at Juventus all my life.
"I have heard about the interest shown by Real Madrid and Manchester United in me but there is someone else, my agent, who deals with this.
Competition
Sky Sports are offering an opportunity for one winner to receive 4 tickets to the premiere of BELIEVE at the National Football Museum in Manchester on the 23rd of July at 5pm.
"Now the only thing my mind is on is that I have seven or eight days of holiday left and I want to go away from Chile in order to have a good rest. Once I arrive back in Italy I will speak to the coach and see what happens."
Vidal, who signed for Juve from Bayer Leverkusen in 2011, has been instrumental in the club's three successive title-winning seasons, scoring 11 goals in 32 league appearances last season alone.
But when he returns to the club on July 28, he will be welcomed by a new manager, Massimiliano Allegri, who took over from Antonio Conte after the successful manager's shock decision to step down this week.