Football Association snubs FIFA events while Sepp Blatter remains president
Last Updated: 23/07/14 9:44am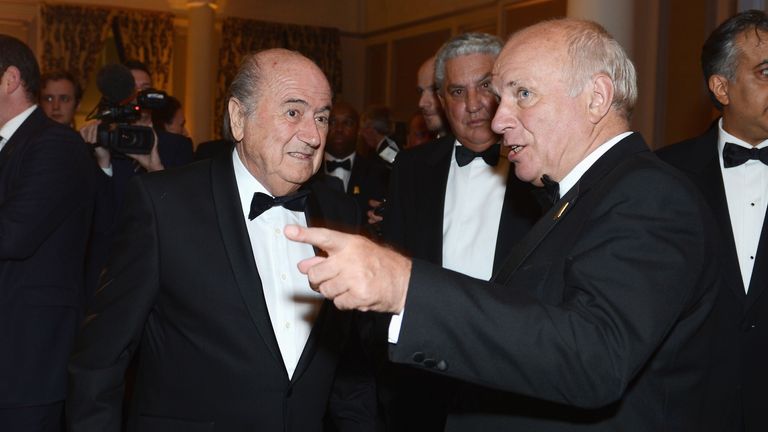 The Football Association will aim to host only UEFA events until Sepp Blatter steps down as FIFA president, says Greg Dyke.
FA chairman Dyke was speaking to the Culture, Media and Sport (CMS) select committee on Tuesday morning on a variety of topics, including the corruption enquiry of the World Cup bidding process, the 2018 and 2022 hosts Russia and Qatar respectively and the forthcoming presidential elections at FIFA.
Blatter, who has led football's international governing body since 1998, recently said he will ask its 209 member countries for their backing to seek a fifth term as president despite insisting three years ago his current term would be his last.  
The Switzerland-born Blatter will be 79 when the election is held next May and some of Europe's football administrators have already aired their views, including UEFA president Michel Platini who stated FIFA needed a "breath of fresh air".
Dyke said: "We've already taken the decision that we will not bid for FIFA tournaments - our decision is we will concentrate in the years ahead on bidding for UEFA tournaments.
"I don't think we should walk out of FIFA because within a week everyone has forgotten you.
"I don't think that sort of gesture-politics would help. I think trying to reform through UEFA and from the inside is the better way forward.
"A lot of the European football associations have made it clear they didn't support him. I'm afraid that from the rest of the world there is overwhelming support. If he runs again he will win."
Asked if he would vote against Blatter, Dyke added: "It's not my decision. As an organisation we haven't discussed it yet but it's unlikely I will vote for him. There is a large movement in Europe against him.
"We think there's a limited amount of time people should sit on the FIFA executive. We voted in favour of that but most voted against it. It's that sort of reform that is needed to make sure we get proper turnover. Hopefully a new president coming in would take a look at the whole structure."
The current focus of the CMS committee is the World Cup bidding process in 2010 which saw Russia win the right to host the 2018 World Cup and Qatar four years later. 
We've already taken the decision that we will not bid for FIFA tournaments - our decision is we will concentrate in the years ahead on bidding for UEFA tournaments.
Greg Dyke
Since the completion of that process, there have been allegations of bribery and corruption, with Blatter accusing the British media of "discrimination and racism" and creating a plot to "destroy" his organisation.
FIFA-appointed investigator Michael Garcia is compiling a report into the alleged corruption, a claim that the Qatar bid deny. The report, delayed until September, will be delivered to ethics judge Joachim Eckert who will use the investigation file to decide on possible sanctions against nine bidders which competed to host the 2018 or 2022 World Cup. 
Dyke rejected accusations that the FA was involved in a push for a new 2022 host, stating: "We are not part of a conspiracy. I can't see it's necessarily to our benefit. If you're going to be involved in a conspiracy you would normally think there's something for your benefit.
"There's no benefit for England. We never said Qatar should be stripped of the World Cup. If Mr Garcia's report demonstrates there was corruption then clearly the whole process should be looked at again. 
"What you've seen within FIFA as a reaction to the Sunday Times article (who published a story alleging corruption in June) is a very defensive response with Blatter saying FIFA is under attack. I don't see it that way. What we are saying is 'can you assure us that all this information is available to Mr Garcia'."
The Qatar bid has also attracted criticism over the prospect of the World Cup being played in temperatures exceeding 50 degrees Celsius. 
Dyke added: "There is no chance it will be held in the summer of 2022 - the discussion is when else it will be held. If you've been to Qatar in the summer you can hardly walk in the streets. The health and safety people say it wasn't safe and it certainly wouldn't be safe.
"Air-conditioned stadiums are one thing but fans moving around on the streets, in and out of stadiums - it will be too dangerous to have it there in the summer."
With Russia hosting the next World Cup in 2018, Dyke also expressed his concern about the current conflict in Ukraine but insisted there should not be any knee-jerk reactions. 
He said: "I don't think you can make a decision based on one week's events, but I do think the technical report needs to be a very important part of the decision and that includes the political stability."