Transfer news: Sunderland manager Gus Poyet's transfer frustration grows
Last Updated: 30/07/14 9:37am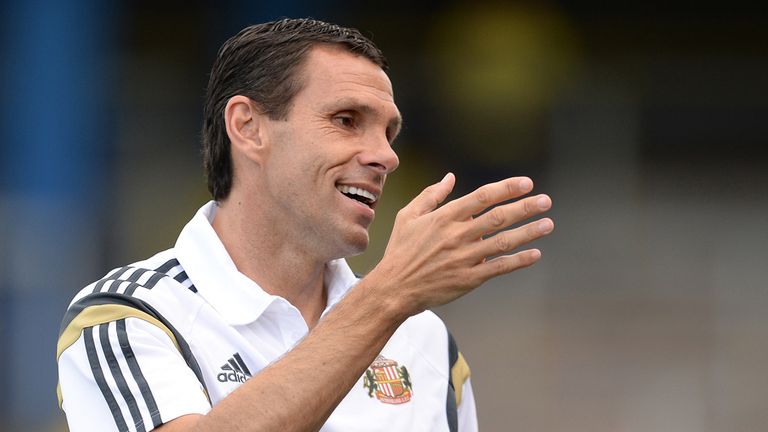 Gus Poyet has revealed his frustration at Sunderland's lack of movement in the transfer window so far this summer.
Poyet has seen 12 players depart the club, but he has only been able to bring in four new players in the shape of Patrick van Aanholt, Jordi Gomez, Billy Jones and Costel Pantilimon.
Now Poyet has told sporting director Lee Congerton and chief executive Mags Byrne that he wants another four signings in by this week.
"One or two they are close, but if you had asked me last week I would have said those two were close too," said Poyet, whose squad are currently at a pre-season camp in Portugal.
"I cannot wait another week. We are going to be off Monday and Tuesday, so next Wednesday I need to have four new players.
"It's clear we need a few new players, and it has not been as quick as I would have expected.
"It's getting a little close to the part where I really want to work with the main squad.
"I am like any other manager, the sooner you get the players the better. I hope it is now, today, tomorrow.
"It's difficult for me because there are things we need to work on this week, and the beginning of next week and that's practically it.
"(In the last week of pre-season) The only thing you can do is ensure everything is in place and refresh things that you've done."
One major annoyance for Poyet is understood to be Sunderland's failure to push through a deal for Atletico Madrid midfielder Cristian Rodriguez.
It is understood the deal was too expensive, and Poyet admits he is not happy to miss out on his fellow countryman.
"The finances of the transfer, the finances of the player, that's the part where I don't get involved," he said.
"I like to plan, and it has been very difficult."