Brentford academy scout Manisha Tailor says FA is becoming more diverse
By Dev Trehan
Last Updated: 08/08/14 7:03am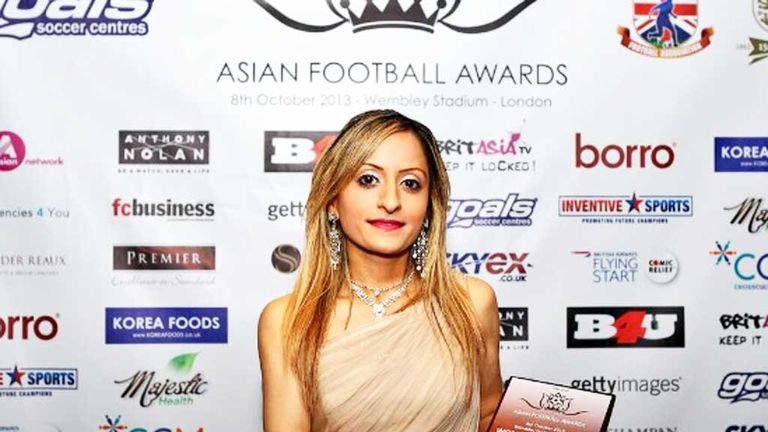 Brentford FC academy scout Manisha Tailor has backed FA chairman Greg Dyke's calls for his organisation to become more representative of the English football community.
Last month Dyke declared English football's national governing body had become "overwhelmingly male and white" and runs the risk of becoming irrelevant.
On Wednesday, FA disciplinary manager Mark Ives told Sky Sports the FA has undergone "a genuine change of mindset" and is committed to diversifying its executive pool.
And Tailor, winner of the Woman in Football accolade at the Asian Football Awards, says she has seen progress from the FA in its quest to become more diverse.
"I would have to agree with Greg Dyke, although I have seen that there is a shift in representation of other races and religions from conferences and courses that I have attended," Tailor told Sky Sports.
"The FA inclusion plan is a brilliant start and suggests that the FA recognise that there is a massive under-representation within the game, not just in relation to race but gender also.
"The situation certainly is better than a decade ago but I think it is great that there will be more opportunities for women to get into the beautiful game."
Tailor is an FA tutor and also works with Show Racism the Red Card as well as England centurion Rachel Yankey on the Arsenal Ladies midfielder's football programme.
The Finchley-based football coach also manages the Middlesex Centre of Excellence U9s and insists her appointment was purely merit-based.
"To some degree it shows that there is progress for Asian women to make positive strides and work with elite players," Tailor said.
"However quality assurance is important to me. The Middlesex FA's policies embrace equality, however, I think those that are best suited and credible for particular positions get them.
"I'd like to think I was good enough for the role based on merit, not based on my gender or race."