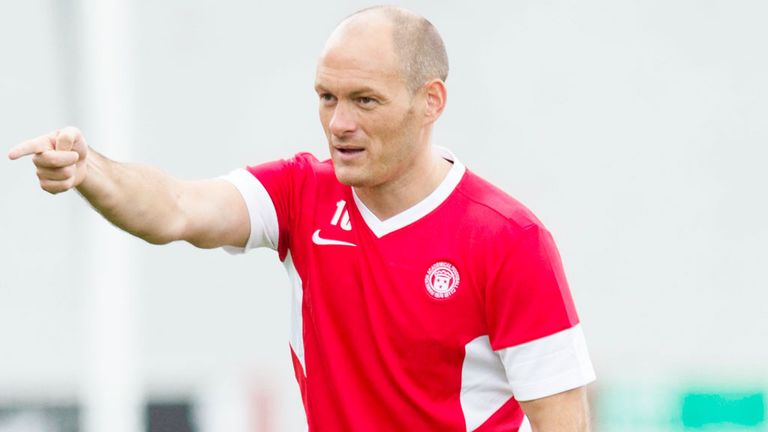 Alex Neil insists neither he nor his Hamilton team have any fear on their return to the Scottish Premiership this season.
In his first season as Accies player/manager the 33-year-old took the New Douglas Park side into the top flight via a win over Hibernian in the playoff.
Ahead of the visit of Inverness on the opening day of the campaign on Saturday, Neil is relishing the prospect of taking on some of the best players and managers in the country.
"It is the same as the team, there is absolutely no fear whatsoever," he said.
"I have been managing for a year, so to get the team into the top flight in my first season and for the boys to be playing at this level, given how young some of them are - there is no fear from us.
"We will give it our best shot, enjoy it and hopefully it will be good enough.
"We did well last season and hopefully we can take that momentum into this season.
"First and foremost, we have to try to stay in the league but that won't be our only goal.
"We set our sights last season on finishing in the top four and we got promoted so we are expecting more than just staying in the league."
Neil accepts that many will tip Accies to return immediately to the Championship but the former Barnsley and Mansfield player insists that will be used as motivation.
"What other people think about us doesn't concern me too much but it is motivation for the players," he said.
"If and when I am playing I will be thinking to myself, 'I wouldn't like to think I am one of the weakest players or teams in the league'. So we have a point to prove, to show that's not the case and hopefully it will drive us on.
"We are going to be the smallest club in the Premiership. There is no question about that.
"However, as we showed last season, that doesn't mean that we can't have success.
"We want to get a great start. We are at home which is perfect for us. So hopefully we can go on and lay building blocks for the rest of the season."